Chicago Hot Dogs Recipe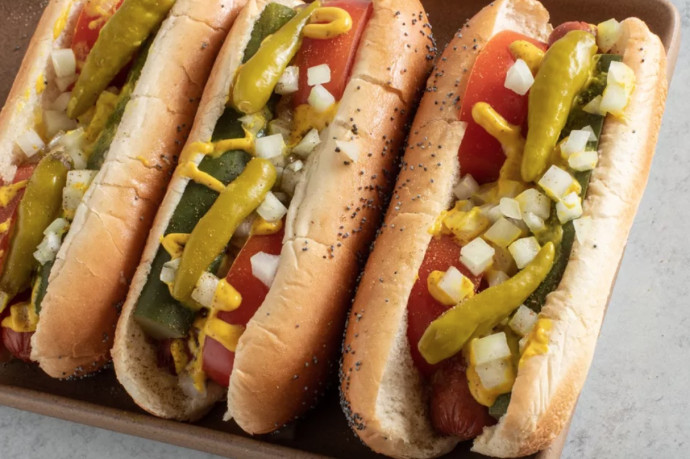 Sausages have long been a Chicago tradition, having come to the city with German immigrants as early as the 1850s. As the town grew and people attended baseball games, the lakefront, and theater, street food vendors filled their needs with sausages and "red hots," later called "hot dogs." The original Chicago dogs are made with all-beef hot dogs, poppy seed buns, and a bold array of toppings. Along with mustard and a particular Chicago-style relish, toppings include a dill pickle spear, tomato wedges, sport peppers, and a sprinkle of celery salt.
If you don't live in Chicago, you might have a hard time finding the neon green relish or sport peppers. Aside from buying the ingredients online, there are a few ways to improvise with simple substitutions. You can replace the sport peppers with pickled jalapenos or milder pepperoncini peppers, and you can make poppy seed rolls with melted butter or simple egg wash and poppy seeds. To turn everyday sweet pickle relish into Chicago "neon green" relish, all you have to do is add 1 drop each of blue and green food coloring.
Many side dishes go with hot dogs. Serve Chicago dogs with chips and your favorite coleslaw, potato salad, pasta salad, or a lighter tossed green salad. Fries, roasted potatoes, and steamed or grilled corn on the cob are excellent choices for hot dogs. The hot dogs are perfect for July 4th, Memorial Day, and Labor Day cookouts, or add them to your tailgating menu.
Ingredients:
4 all—beef hot dogs
4 hot dog buns, poppy seed or plain
4 dill pickle spears
1 medium tomato, cut into 8 wedges
4 tablespoons sweet pickle relish
1/4 cup diced onion
4 teaspoons yellow mustard
8 pickled sport peppers
1/4 teaspoon celery salt