Roasted Carrots With Feta and Dukkah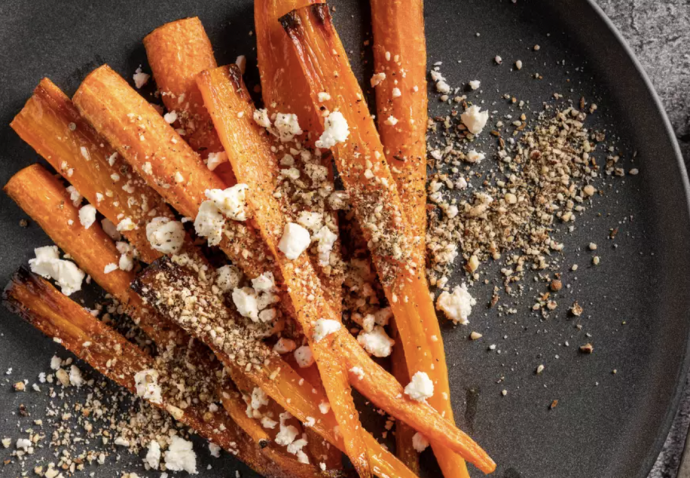 Dukkah, an Egyptian condiment with a distinctly nutty taste, is definitely not a typical spice blend but, rather, a fragrant combination of roasted nuts and seeds. Typical dukkah contains some common ingredients such as nuts (usually hazelnuts but other nuts can be used), sesame seeds, coriander, cumin, salt, and pepper. From there, you can add your own spin with things like mint, dried thyme, or spicy peppers.
Dukkah can be found in spice and Middle Eastern markets, and sometimes in the international aisle of some supermarkets, but it's easy to make at home and there are lots of possible variations so you can experiment and find your perfect custom blend.
Use dukkah as a crust for meat, chicken, or fish, as a dip for pita bread and olive oil, or as a seasoning for vegetables. Fresh carrots seasoned with dukkha and olive oil and then topped with tangy cheese make an extraordinary side dish.
Ingredients:
1/4 cup hazelnuts
2 tablespoons sesame seeds
1 tablespoon coriander seeds
1 tablespoon cumin seeds
1/4 teaspoon freshly ground black pepper
1/4 teaspoon salt, or to taste
For the Roasted Carrots:
1 pound carrots
1 tablespoon olive oil
1/4 cup crumbled feta cheese