Twix Cheesecake Pie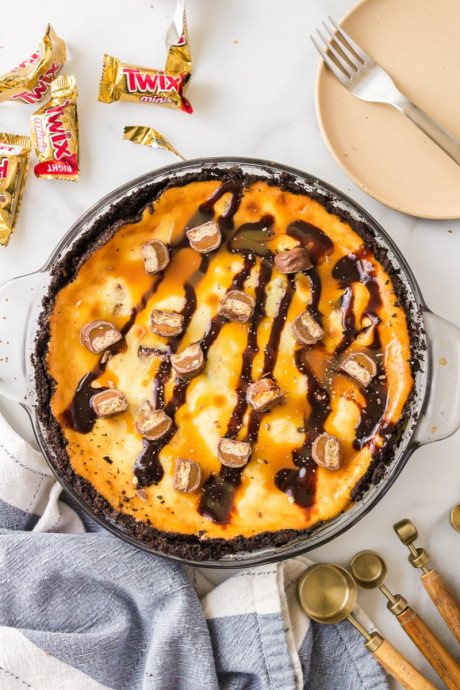 Twix Cheesecake Pie is a wonderfully creamy cheesecake pie with Twix Bars baked into it. It has an Oreo crust, and it's topped with caramel, chocolate and more Twix Bars!
There's a fun story behind this pie. When my son was 9 years old, he entered a community pie contest with this pie recipe. I entered the contest too. The judges sampled all of the pies, and my son one first place- a blue ribbon for his Twix Cheesecake Pie. I didn't even place at all with some sort of apple pie that I made. I'll admit that this pie was super amazing. I've made it many times since. So you can consider this a blue ribbon pie!
The first step is making the crust. Crush the Oreos (either in a plastic bag or in a food processor) and mix the crumbs with melted butter. Use your fingers to press the buttery crumbs into a 9-inch pie dish. Place the crust in the freezer for about 30 minutes, or until firm.
The next step is making the filling. Preheat the oven to 325 degrees F. With an electric mixer in a large bowl, beat the cream cheese with the sugar and eggs until the mixture is smooth. Stir in the chopped Twix bars. Pour the filling into the frozen pie crust. Bake until set, about 35 to 45 minutes. Carefully remove from the oven and let the Twix cheesecake pie cool completely.
Ingredients:
CRUST:
20 whole Oreo cookies (with creme filling)
3 tablespoons butter, melted
FILLING:
Two 8-ounce packages cream cheese, at room temperature
½ cup granulated white sugar
2 large eggs
16 "Fun Size" Twix candy bars, chopped (about 2 cups)
TOPPING:
3 tablespoons chocolate syrup (more, if desired)
3 tablespoons caramel syrup (more, if desired)
6 "Fun Size" Twix candy bars, chopped (about ¾ cup)