Jumbo Double Chocolate Cookie With Peanut Butter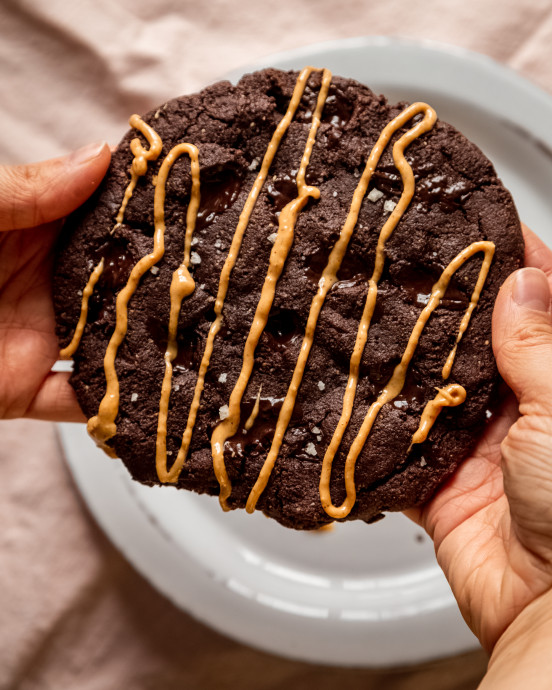 This jumbo double chocolate cookie with peanut butter is gooey, delicious, easy to make, and full of wholesome ingredients like almond flour, flax, and maple syrup. Naturally vegan and grain-free too!
Good advice: romance yourself with a giant cookie. You could also share this jumbo double chocolate cookie if you're feeling generous. =)
This cookie is a gentle riff on my Jumbo Tahini Chocolate Chunk Cookie. We remix it with peanut butter, unsweetened cocoa to double up the chocolate, and a bit of ground coffee (!!) to enhance the chocolate overall. I have maple syrup, ground flax, and almond meal in the mix too. The resulting cookie has deep chocolate flavour, a slightly gooey texture, tons of chocolate, just the right amount of sweetness, and that irresistible peanut buttery edge. The texture is almost brownie-like!
Ingredients
1 teaspoon ground flaxseed
1 tablespoon water
½ cup almond meal (or hazelnut/sunflower seed meal)
2 tablespoons unsweetened cocoa powder
½ teaspoon finely ground coffee (optional)
⅛ teaspoon fine sea salt
¼ teaspoon baking soda
2 tablespoons maple syrup
1 tablespoon smooth, natural peanut butter
1 teaspoon olive or avocado oil
¼ teaspoon vanilla extract
1 oz (28 grams) dairy-free semi-sweet chocolate chips or chunks, plus extra (about 2 tablespoons chocolate chips)