Vanilla Bean Sheet Cake With Strawberry Frosting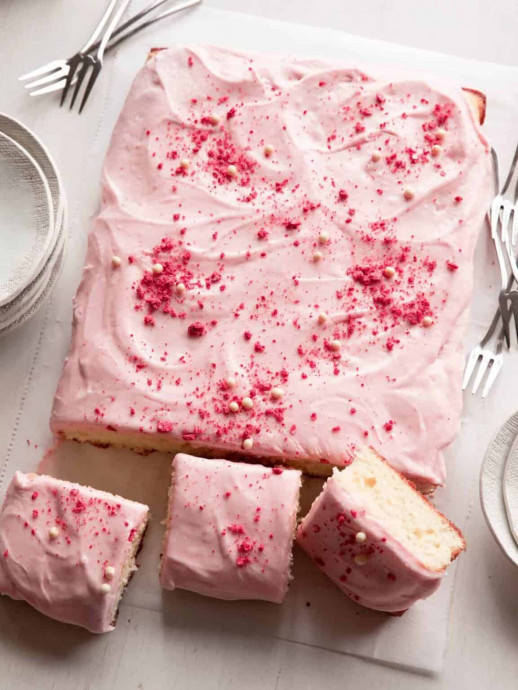 Happy spring, everyone! We're celebrating the awesome weather and the start of spring with our first sheet cake recipe! A Vanilla Bean Sheet Cake with Strawberry Frosting!
This cake is light fluffy, delicious and really simple to make! I used freeze-dried strawberries in this frosting bc I really wanted a nice, strong flavor of real strawberry and the flavors in the freeze-dried strawberries and nice and concentrated they get the job done! Enjoy!
Ingredients:
cake
3 ½ cups all-purpose flour
4 teaspoons baking powder
1 teaspoon kosher salt
1 cup (2 sticks) unsalted butter, softened
2 cups sugar
3 large eggs, room temperature
2 teaspoons vanilla paste 1/2 vanilla bean
1 ½ cups whole milk
strawberry frosting
¼ heaping cup freeze-dried strawberries
2 cups powdered sugar
1 cup (2 sticks) unsalted butter, softened
2 to 3 tablespoons whole milk
pinch of salt
garnish
roughly crushed freeze-dried strawberries
white chocolate crispy balls optional