Butter Cupcakes With Grapefruit Buttercream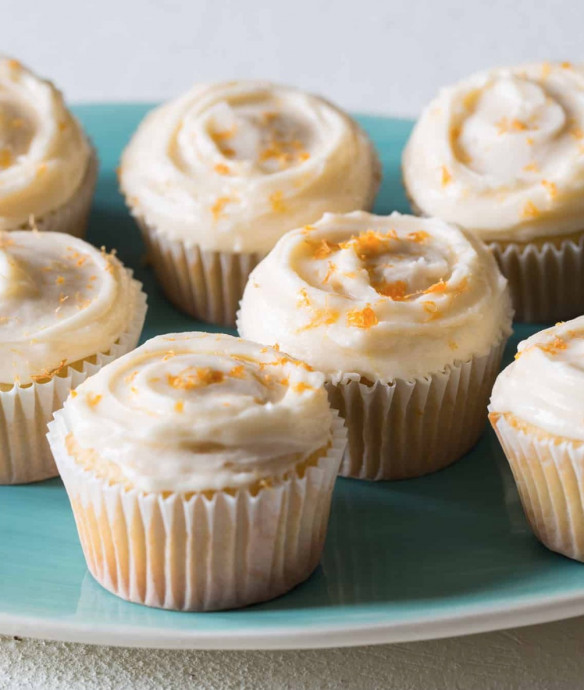 Today we have another recipe from our collaboration with Almond Breeze. I'm really loving experimenting around with almond milk in baked goods. It really is making them slightly lighter and I swear every time I substitute almond milk into my baked goods my boyfriend swears there's something different about them…in a good way!
Anyway, today we have these simple butter cupcakes, that are loaded with flavor and topped with a fresh grapefruit buttercream. We're cheating a little bit today by making a super basic buttercream. While I do love a delicious French or Swiss buttercream, I'm not crazy about having to melt sugar each time I make it….so basic "cheating" buttercream it is…and it's still smooth, creamy and delicious!
Ingredients:
grapefruit buttercream
½ cup fresh pink grapefruit juice, lightly simmered for 8 minutes and cooled
½ cup (1 stick) unsalted butter, softened
4 ½ to 5 cups sifted powdered sugar
zest of 1 grapefruit
butter cupcakes
3 cups all purpose flour
2 teaspoons baking powder
½ teaspoon salt
1 cup (2 sticks) unsalted butter, softened
1 ½ cups superfine sugar
4 large eggs, at room temperature
1 ½ teaspoons vanilla extract
½ teaspoon almond extract
1 cup unsweetened Almond Breeze almond milk
garnish