Roasted Cabbage With Ginger Lime Root Slaw & Cashews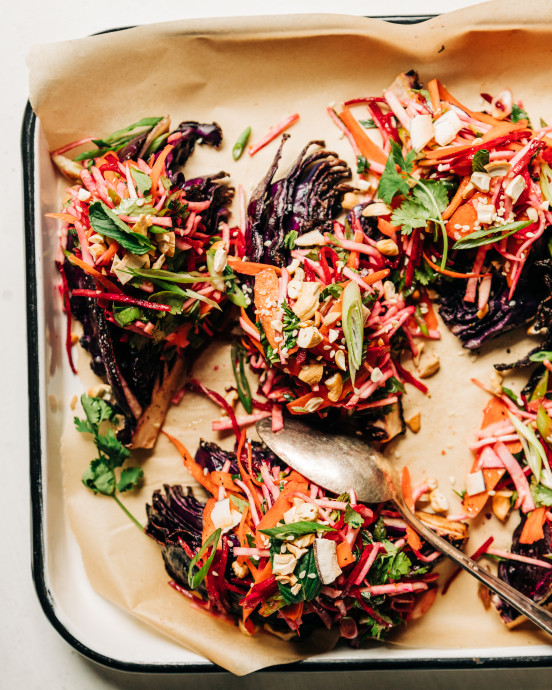 Roasted cabbage wedges topped with a ginger lime slaw are a colourful and vibrant way to enjoy winter hardy vegetables. Mint, cilantro, and green onions keep it fresh, while toasted cashews and coconut add crunch. This is a naturally gluten-free and vegan side dish that can easily be made soy and nut-free too.
Cabbage is beautiful and glamorous! I celebrate it all year in my cooking. Thin wisps in a slaw are perfect. Lightly sautéed with apple cider vinegar, caraway, and lots of black pepper is simple and always good. And my favourite method of all: perfectly caramelized roasted cabbage.
With this recipe, we're searing the cabbage on the stove first and then finishing it in a 400 degree oven. This guarantees good caramelization on the edges. While searing, we're seasoning liberally with salt and pepper. The wedges are slightly sweet and just tender enough when done. You could honestly stop right there if you wanted to!
But I also dreamed up a colourful root vegetable slaw to pile on top of that tender cabbage. It just becomes this total celebration of Winter veg! I freshen the mix up with some mint, cilantro, and green onions. The dressing has lime juice, fresh ginger, zippy garlic, and a cumin-scented oil. Once you get everything on the platter, we make it rain cashews, coconut, and sesame seeds. The crunch factor!
Ingredients:
⅓ cup avocado oil, plus extra
1 teaspoon ground cumin
1 medium cabbage (about 1.5 kg), cut into wedges with the core intact
sea salt and ground black pepper
½ teaspoon lime zest
1 ½ tablespoons lime juice
1 small clove garlic, finely minced or grated with a Microplane
1- inch piece of ginger, peeled and finely minced or grated with a microplane
½ teaspoon Tamari soy sauce
½ teaspoon agave nectar or maple syrup
1 medium carrot, peeled and shredded
1 medium beet, peeled and shredded
½ small celery root, peeled and shredded
¼ cup fresh mint leaves, chopped
¼ cup fresh cilantro, chopped
3 green onions, sliced
¼ cup toasted cashews, chopped
2 tablespoons unsweetened shredded coconut
2 tablespoons sesame seeds