Molasses Baked Beans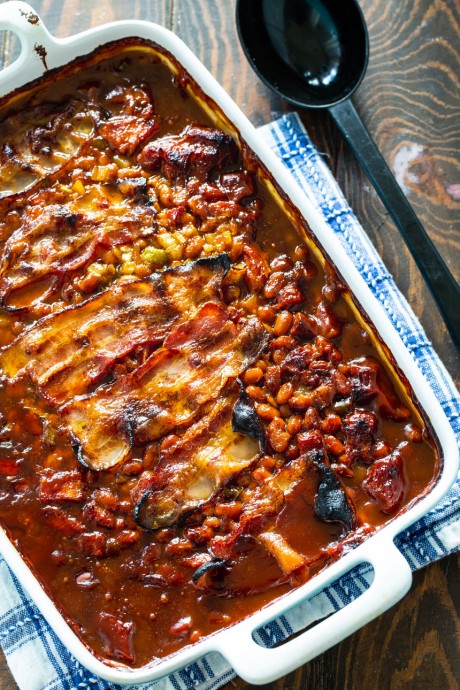 Molasses Baked Beans are wonderfully rich in flavor and the perfect addition to your next cookout. So sweet, smoky, and delicious. A combination of pulled pork and bacon gives them lots of meaty flavor. A mixture of BBQ sauce, brown sugar, and molasses plus cayenne pepper create a wonderful blend of sweet and spicy.
The smoky flavor from the bacon and pulled pork makes these beans taste like they were simmered on an open fire. Makes a great side for burgers, hot dogs, BBQ chicken, ribs, or pulled pork. This is a super easy recipe to make with 2 cans of pork and beans. You'll want to cook this baked bean recipe in the oven for about an hour to really develop the flavors. For the first half of cooking, you'll cook them covered. Then cook them uncovered to get them thickened up some and let the bacon crisp up.
The pulled pork can be left out but I really love it in these beans. You can use leftover pulled pork or you can use pulled pork that you purchase from your local bbq restaurant. If you leave the pork out, you may want to add a few extra slices of bacon. If you like your beans thick, bake the beans for a little longer than the recipe suggests. If you like soupier beans, bake for a little less time. Leftovers can be refrigerated for up to 5 days or can be frozen for 2 months.
Ingredients:
2 (28-ounce) cans baked beans, I use Bush's
1 medium onion, diced
1/3 cup finely diced green bell pepper
1/2 cup BBQ Sauce, I use Stubb's
1/3 cup packed light brown sugar
1/4 cup molasses
1 tablespoon Worcestershire sauce
1 teaspoon paprika
1/2 teaspoon black pepper
1/2 teaspoon dry mustard
1/2 teaspoon cayenne pepper leave out if you don't want it spicy
1 cup chopped pulled pork
6 slices bacon