Blackened Shrimp and Grits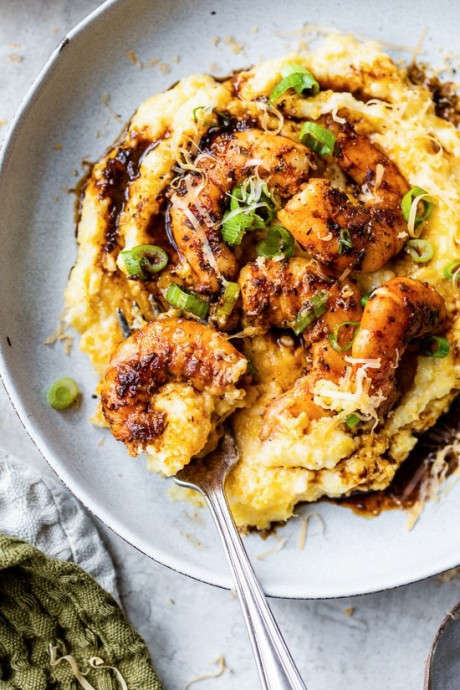 The grits in this Blackened Shrimp and Grits recipe is creamy and cheesy, a delicious dinner for any night of the week. Blackened seasoning is savory with a bit of a kick. There's something so good about how dried oregano and thyme combine with cayenne, paprika, and garlic powder to flavor the shrimp. It's a true taste of the Gulf Coast and one I can't get enough of. You can adjust to heat to your liking, I make it on the milder side for my family. This healthy shrimp and grits recipe takes about 30 minutes to cook. While the grits are simmering, you can make the shrimp.
Season the shrimp: Combine the blackened spices, spritz the shrimp with oil, and coat with the spice mixture.
Cook the grits: Bring two cups of chicken broth, milk, water, and salt to a boil. Slowly stir in the grits and bring to a boil. Reduce the heat to lower, cover, and simmer for about 30 minutes, stirring occasionally. Stir in the butter, cheddar cheese, and parmesan.
Cook the shrimp: Add the shrimp to a cast-iron skillet on medium-high. Cook for about two minutes on each side until the spices are darkened and aromatic.
Make the pan sauce: Remove the shrimp from the pan and some broth or wine to deglaze it. Cook for a minute until it reduces by half, and drizzle over the shrimp and grits.
Ingredients:
2 1/2 cups low sodium chicken broth, divided
1 1/4 cups fat free milk
1/4 cup water
1 teaspoon kosher salt
1 cup quick cooking grits, not instant
1/2 tablespoon butter
1 1/2 oz sharp cheddar cheese, freshly grated, divided
1 tablespoon grated Parmesan cheese
For the Shrimp:
1/2 tablespoon paprika
1/4 teaspoon dried cayenne pepper
1/2 teaspoon garlic powder
1/2 teaspoon dried thyme
1/2 teaspoon dried oregano
1/4 teaspoon kosher salt
1/8 teaspoon black pepper
olive oil spray
24 Jumbo shrimp, about 1 lb cleaned and deviened
3 tablespoons scallions, sliced
lime wedges, for serving