Tofu Jalfrezi (Indian Smoky Tofu Bell Pepper Tomato Stir Fry)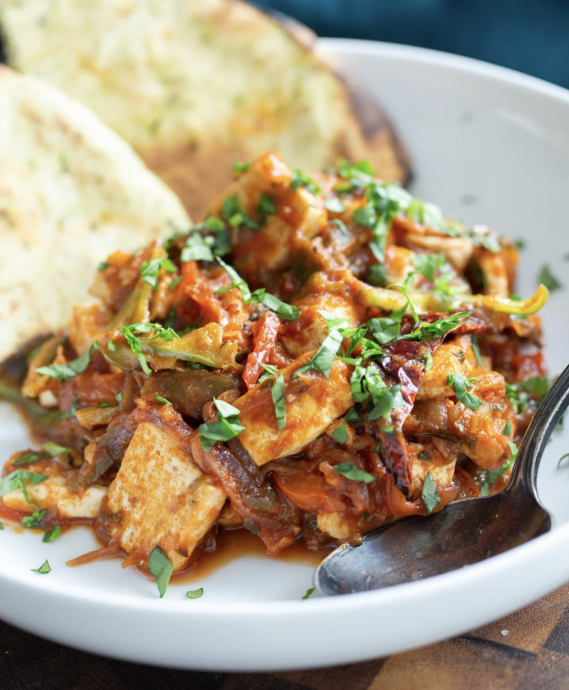 Vegan Indian Tofu Jalfrezi – this one-pan dinner features pan-seared tofu, onion and bell peppers simmered in a spicy smoky sauce flavored with a blend of fresh ginger and garlic, along with Indian spices. Serve with naan! Nutfree, Glutenfree. Option for Soyfree and onion garlic free. Fans of spicy food will LOVE this easy Vegan Tofu Jalfrezi. This is a popular Indian dish and one of the spicier curries you can find on a restaurant menu. I already have a vegetable jalfrezi recipe on the blog so think of this as a heartier version with big chunks of pan-seared tofu added to the gravy. The flavorful sauce makes for an excellent match for tofu.
Jalfrezi loosely translates to hot stir fry. This dish evolved to use up leftovers and spice them up over high heat with onion and peppers. The seared peppers add smokyness. Some tomato adds the sauce. This is a versatile recipe, use veggies or beans or other additions and use whichever spices you have!
Ingredients:
2 teaspoons oil , divided
1/2 teaspoon cumin seeds
2 whole dried red chilies such as cayenne or Thai or Kashmiri chilies for mild Break the chilies into 2 only if you want extra heat
1/2 red onion thinly sliced
1/2 large red bell pepper thinly sliced
1/2 large green bell pepper thinly sliced
1 teaspoon smoked paprika
2 teaspoons minced ginger
1 clove garlic minced
1 teaspoon coriander
1/2 teaspoon cayenne less for less heat
4 ounces tomato puree
1/2 teaspoon or more salt
1 teaspoon lime juice
1 teaspoon fenugreek leaves
cilantro for garnish
Optional: 2 drops of liquid smoke