Green goddess BLT pasta salad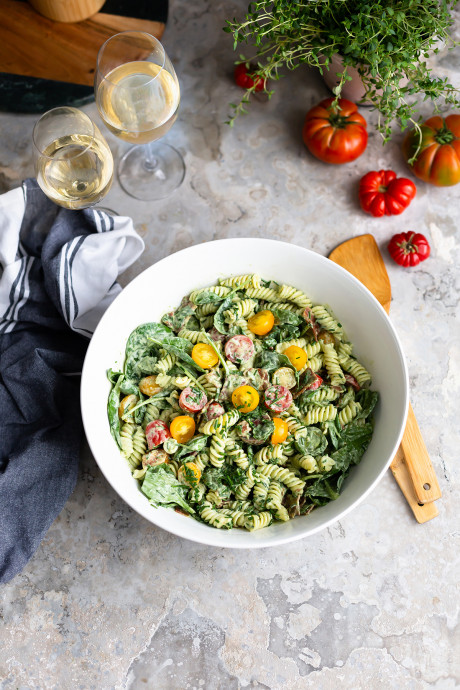 Greed goddess dressing is having its big moment on Tik Tok right now and I tried the famous Baked by Melisa version the other day. It packs a major flavour punch with all that raw shallot and garlic, but I found it incredibly abrasive. I prefer my version with anchovies and limited garlic. I did enjoy her use of Nutritional yeast in place of parmesan though, keeping it vegan.
For a low carb easy diner idea my lettuce and chicken wraps with green goddess Caesars dressing is always a winner. Swap out some of the mayo to give it more tang and lighten it up.
This green goddess dressing for this bacon pasta salad is right up there amongst my favourite dressings I've even made. Modified from my cheats Caesars dressing I could pour this over everything. Adding leftover roast chicken to this salad makes it a complete meal and it is very delicious!
Ingredients:
Dressing:
½ cup Greek yoghurt
½ cup low fat Hellman's mayonnaise
4 anchovies
1 clove garlic, crushed (cook it with the bacon to temper the raw flavour)
a few basil leaves – about 6 medium/large
1 ½ cups baby spinach leaves
1 small avocado or half a large
2 Tbsp good quality white wine vinegar
1 Tbsp Worcestershire sauce
2 Tbsp water
½ tsp sea salt flakes
Generous few grinds of black pepper
Pasta salad:
300gms fusilli pasta (or any other short pasta)
250gms Medley of tomatoes (mixed baby rainbow tomatoes)
250gm streaky smoked bacon (1 pack)
60gms baby spinach leaves (or more if yo prefer)
20gms chives, finely chopped