Low Carb Bagel Dogs or Pretzel Dogs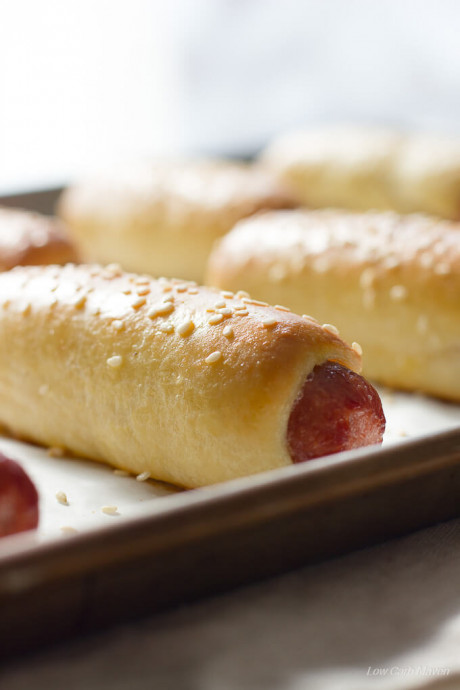 Low Carb Bagel Dogs or pretzel dogs are easy to make with the Fathead pizza crust recipe. Just wrap, roll, and bake. The perfect low carb or keto lunch, snack, or meal.
Bagel dogs. Who ever thought you would be so good? Hot dogs wrapped in low carb Fathead pizza crust dough and baked in the oven until golden brown. Why have I not made you before?It's made from regular ingredients and is fast and easy to make. I tweaked the recipe to get a truer bread consistency from the dough. I add a little more cream cheese and some protein powder. My dough is sticker, but I feel better. It was perfect for these low carb bagel dogs.
I originally spent a lot of time testing the low carb pizza dough with various ingredients to get what I thought was the best tasting and textured dough. The whey protein powder was the best version followed by oat fiber, coconut flour and last, additional almond flour. I feel that this is the best version and I love it.
Ingredients:
1 pound hot dogs (8 count)
1 1/2 cup mozzarella cheese (141 g/ 5 oz)
2 oz cream cheese
1 large egg
1 1/4 cup almond flour (127 g/ 4.5 oz)
2 tbsp whey protein powder (or almond flour, coconut flour or oat fiber)
1/4 tsp baking SODA
Topping
1 large egg beaten with 2 teaspoons of water
sesame seeds (optional)