Chicken, sausage and potato tray roast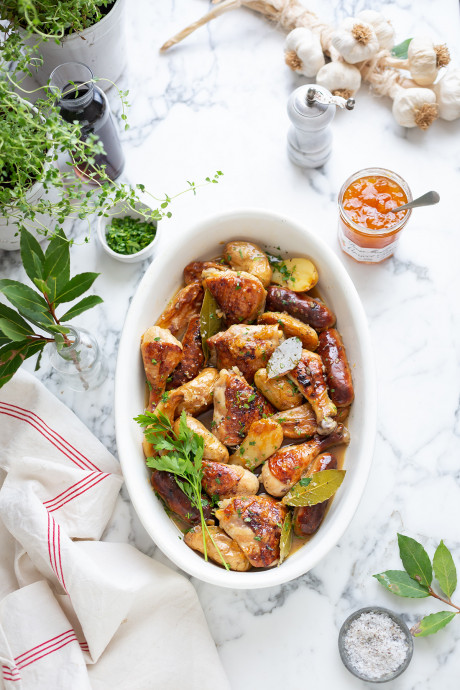 This chicken, sausage, and potato tray roast with apricot, herbs & bay pretty much cooks itself and is so delicious you will immediately put it on your weeknight supper rotation. The flavor-packed roasting liquid of chicken stock, sherry, thyme, mustard, garlic, and apricot jam makes the most delicious pan gravy you might want to make for guests too. Have bread on standby to mop it all up.
What I used to make this chicken, sausage and potato tray roast:
I have used pork sausages here but Italian sausages (salsiccia) with fennel would be very delicious too. They tend to be bigger so use only 4 if you do.
Bay and thyme give this salty-sweet roast chicken a herbaceous hit, and a sprinkle of chopped parsley finishes sit off.
New potatoes are perfect in this recipe. Cut them in half if they are a little big.
Garlic & Dijon mustard are always a good idea.
Ingredients:
8 pieces of free-range chicken (bone-in and skin on)
8 pork sausages or 4 large Italian sausages
500gms new potatoes
3 – 4 bay leaves
A few sprigs of thyme
400ml stock chicken stock
½ cup Medium Cream Sherry
2 large garlic cloves, crushed
4 Tbsp Bonne Maman apricot preserve
1 tsp Dijon mustard
drizzle of olive oil
salt and pepper
1 Tbs chopped parsley for garnish