Cinnamon Raisin Bagels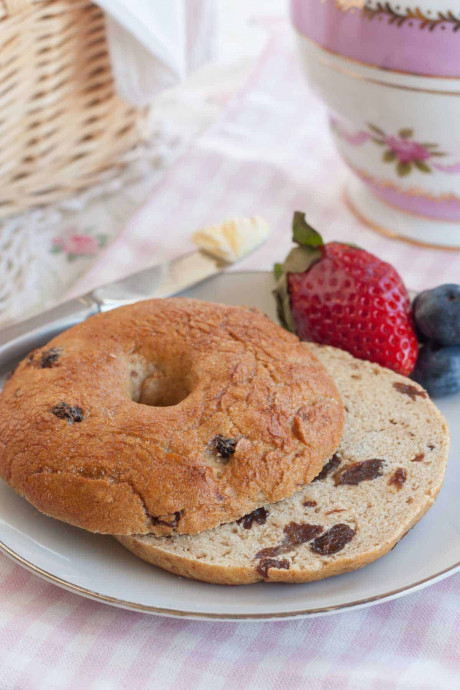 Soft and fluffy on the inside with a chewy, lightly crisp exterior, these Cinnamon Raisin Bagels are a fabulous gluten-free breakfast option. They're easy to make from scratch and great for meal prep!
These bagels do take a couple of hours to make, but the majority of that time is dedicated to the rising of the dough. They're seriously simple from start to finish! Determined to master the art of gluten-free bagel-making? These tips are here to guide you in the right direction.
Adjust the Consistency of the Dough: When your bagel dough is finished, it should have a tacky texture. If the dough is too dry, add additional water one tablespoon at a time until it's a little bit sticky and not too stiff.
Let the Dough Rise in a Warm Place: In order for your dough to fully rise, it must be in a warm environment. I like to heat my oven to about 80°F and keep the prepared dough in there.
Use a Slotted Spoon to Handle Boiling Bagels: When you're dropping your bagels into the boiling water, flipping them over or removing them, do so with a slotted spoon. If you try to use tongs, you could ruin the shape of the bagels.
Let the Bagels Cool Completely: I recommend letting your bagels cool all the way down to room temperature, even if you plan to serve them warm. Once they've cooled, you can cut them in half with ease and then reheat them in the toaster oven.
Ingredients:
2 cups brown rice flour
5/6 cup tapioca starch also called tapioca flour, divided (1/3 cup + 1/2 cup)
2/3 cup potato starch not flour
1/2 cup millet flour
2 Tablespoons light brown sugar packed (see notes)
1 Tablespoon active dry yeast
2 teaspoons xanthan gum
1 1/2 teaspoons kosher salt
2 large eggs
2 large egg yolks (reserve the whites for brushing the bagels)
1 tablespoon grapeseed oil or canola oil
1 cup warm water plus 1-4 additional tablespoons if needed
1 Tablespoon cinnamon
3/4 cup raisins
1 1/2 quarts water
¼ cup granulated sugar
1 Tablespoon baking soda
2 Reserved egg whites lightly beaten