Ranch Chicken Meatballs With Broccoli Couscous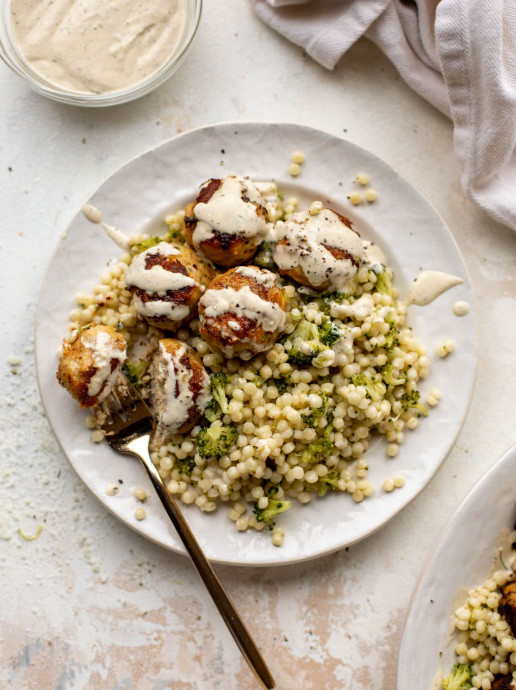 We love these ranch chicken meatballs! Juicy chicken meatballs drizzled with ranch dressing and served with broccoli couscous for a delicious weeknight meal.
Let's start with the ranch chicken meatballs!
To make these meatballs, I use a few things that bring out a "ranch" flavor. Dried dill and dried chives, some garlic and onion powder, just to name a few. I like to add in some finely grated cheddar cheese too, for extra oomph and flavor.
Along with an egg, a sprinkle of breadcrumbs and salt and pepper – these come together so easily. I brown them in a skillet and like to keep a meat thermometer nearby to make sure they are cooked to perfection. Since these don't have a sauce and chicken meatballs can end up with a dry texture, this is ideal.
It's the best satisfying meal and one that always feels really special. It's different than our usual meals and tends to be a welcomed change.
Ingredients:
Ranch chicken meatballs
1 pound ground chicken, i like 93% lean
1 large egg, lightly beaten
⅓ cup finely grated cheddar cheese
¼ cup seasoned breadcrumbs
1 teaspoon dried chives
1 teaspoon garlic powder
1/2 teaspoon dried dill
¼ teaspoon onion powder
Kosher salt and pepper
2 tablespoons olive oil, for cooking
Ranch dressing, for serving
Broccoli couscous
3 cups chicken or vegetable stock
2 cups dry couscous
1 ½ cups broccoli florets, i like tiny florets for this!
1 tablespoon unsalted butter
Kosher salt and pepper