Sweet and Sour Grilled Salmon with Pineapple Salsa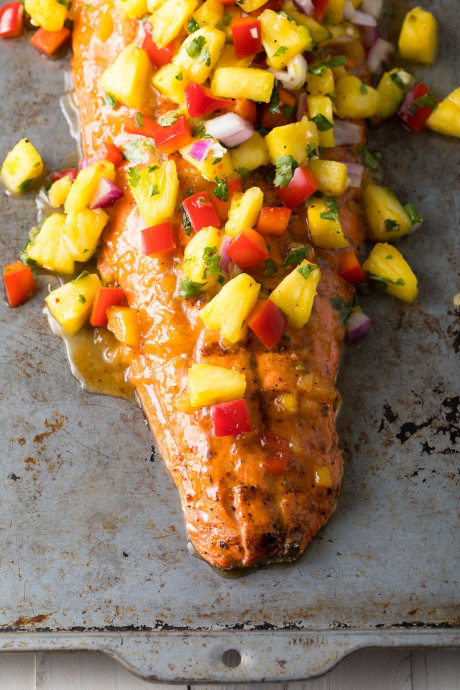 The most amazing sweet and sour grilled salmon with pineapple salsa recipe! Don't have a grill? This tender salmon recipe can be grilled or baked to perfection. Although we have several go-to grilled salmon recipes we enjoy making again and again, this season i've discovered a new quick salmon dish that my husband and kids rave about… sweet and sour grilled salmon with pineapple salsa.
Tangy sweet and sour sauce and luxurious salmon fillets are a winning combination. The sticky-sweet sauce perfectly balances the richness of the fish, and creates a lovely glistening glaze over the top that turns crispy around the edges. Salmon is a great source of protein and is loaded with Omega-3 Fatty Acids, B Vitamins, and Potassium.
Adding a simple pineapple salsa on top of the salmon offers an extra pop of tropical flavor and texture for a hot-cold sensation you will crave.
Ingredients:
1 whole wild-caught salmon fillet (1.5-2 pounds)
1 tablespoon Tastefully Simple® Avocado Oil
3 teaspoons Tastefully Simple® Seasoning Salt, divided
¾ cup Tastefully Simple® Sweet & Sour Pineapple Sauce, divided
2 cups fresh pineapple, diced
1 cup diced red bell pepper
½ cup diced red onion
¼ cup fresh chopped cilantro
1 whole jalapeno, shaved
2 cloves garlic, minced