Amazing Bruschetta Chicken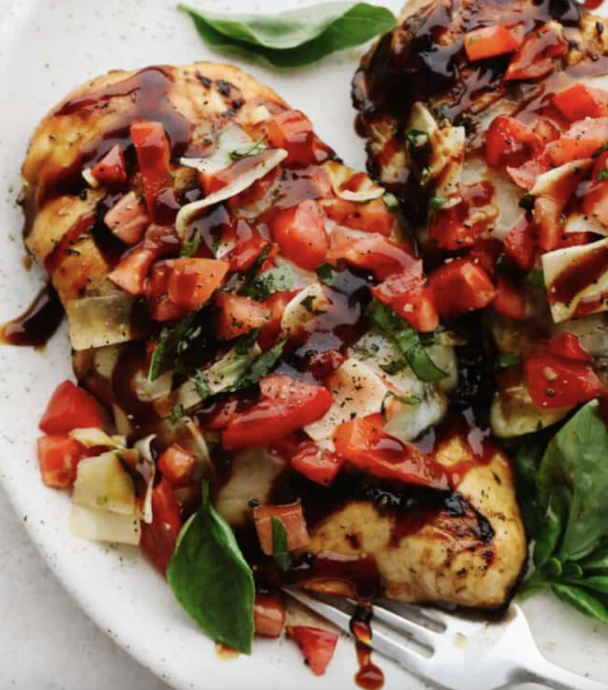 Bruschetta chicken is a delicious, low-carb meal that packs big, mouthwatering flavor. With fresh vegetables, garlic, a sticky-sweet balsamic glaze, and homemade Italian Seasoning, this will be your new go-to dinner.
Want more chicken recipes that are absolutely delicious but won't break your diet? I have got you covered. My California avocado, lemon, and honey lime are more chicken recipes bursting with flavor that you and your family will go crazy over!
The way the flavors of mozzarella cheese and balsamic vinegar play with fresh tomatoes and herbs is almost magical. I have taken those quintessential flavors and turned them into one easy, keto-friendly meal. With all of the flavor this bruschetta chicken packs, it is easy to forget that it is healthy! Grill these up for a healthy lunch or for an Italian-inspired dinner that even the pickiest of eaters will devour.
This bruschetta chicken recipe makes dinnertime easy with a 5-ingredient marinade and grill time of less than 10 minutes. The freshness of the ingredients is what does a lot of the heavy lifting in this recipe. All you have to do is grill up your chicken and top it off with mouthwatering cheese, vegetables, and glaze! The way these flavors come together and enhance grilled chicken is incredible! This juicy, flavorful bruschetta chicken recipe is going to be one you come back to time and time again.
Ingredients:
3/4 cup balsamic vinegar
1/4 cup honey
3 cloves garlic minced
2 Tablespoons olive oil
2 teaspoons italian seasoning
1/2 teaspoon salt
1/4 teaspoon pepper
4 boneless skinless chicken breasts
4 slices mozzarella cheese
3 mediume roma tomatoes diced any tomato will work
1/4 cup fresh chopped basil
salt and pepper
balsamic vinegar for drizzling optional