Shrimp Scampi with Pasta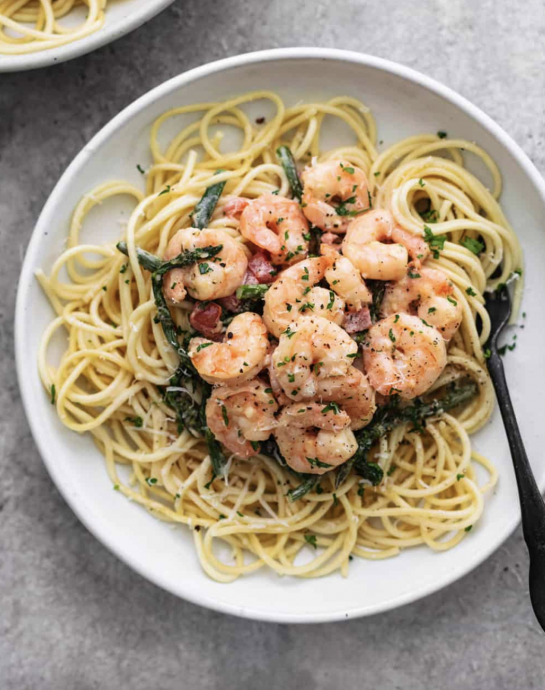 Shrimp Scampi with pasta, tender asparagus, fresh tomatoes, herbs, and savory garlic butter shrimp all come together to make an amazing 30-minute meal for shrimp and pasta lovers! Inspired by the popular restaurant dish, this copycat recipe will satisfy all of your Olive Garden cravings.
Shrimp scampi is one of our most favorite ways to eat shrimp. That buttery lemon goodness on top of the succulent shrimp? This particular version is one hundred percent awesome recipe with long noodles, tender asparagus, diced tomatoes and lots of fresh parsley on top. It's so easy and so flavorful, you'll love it!
Ingredients:
1 pound asparagus - ends trimmed and chopped into thirds
1 teaspoon olive oil
1 pound large shrimp - peeled and de-veined, tails removed
4 tablespoons butter
1 tablespoon minced garlic
⅓ cup broth - chicken or vegetable broth
½ cup heavy cream
½ teaspoon salt - more to taste
cracked black pepper - to taste
1-2 teaspoons finely chopped fresh parsley
1 roma tomato - diced
1 tablespoon fresh-squeezed lemon juice
grated parmesan cheese - to taste
8 ounces linguine noodles - cooked according to package directions