White Bean And Cherry Tomato Salad With Parsley Vinaigrette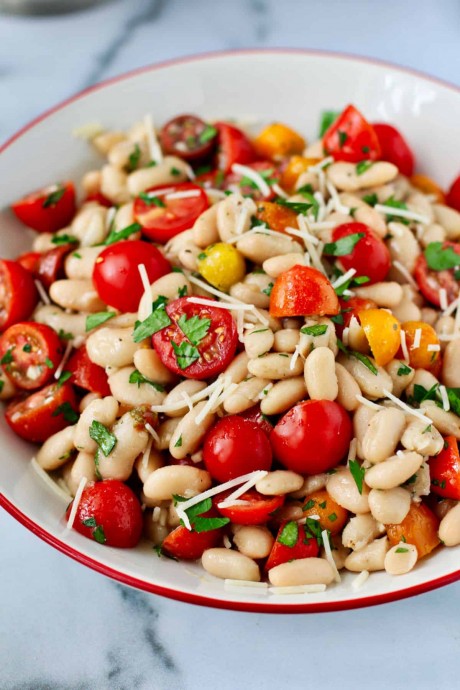 This tomato and bean salad is fabulous for picnics, outdoor parties, and summer dinners. It's both a delicious salad and filling side dish in one. Pair it with a steak, chop, or chicken, and you have a complete dinner.
The parsley vinaigrette, with extra virgin olive oil, garlic, dijon mustard, and red wine vinegar pairs perfectly with the salad ingredients too.
Ingredients you will need to make this salad: Two 15-ounce cans of white beans that you have drained and rinsed. I used cannellini beans, but navy beans or great northern beans will work too. 1 pound of cherry tomatoes. I used a mixture of cherry and grape tomatoes, and included a few yellow and orange tomatoes. 2 tablespoons of chopped flat leaf parsley (not incuding the parsley in the vinaigrette). Grated pecorino romano cheese. Plus, all of the dressing ingredients listed above (olive oil, garlic, dijon mustard, red wine vinegar, and salt and pepper).
Ingredients:
For the Dressing
1 teaspoon Dijon mustard
2 cloves garlic, minced
3 tablespoons red wine vinegar
1/4 teaspoon salt
1/8 teaspoon freshly ground black pepper
1/4 cup extra virgin olive oil
1 tablespoon minced flat-leaf parsley
For the Salad
2 15-ounce cans white beans, drained and rinsed
1 pound cherry tomatoes, cut into halves or quarters
Salt and pepper to taste
2 tablespoons minced flat-leaf parsley
3 to 4 tablespoons shredded romano cheese