Jalapeño Popper Stuffed Chicken Recipe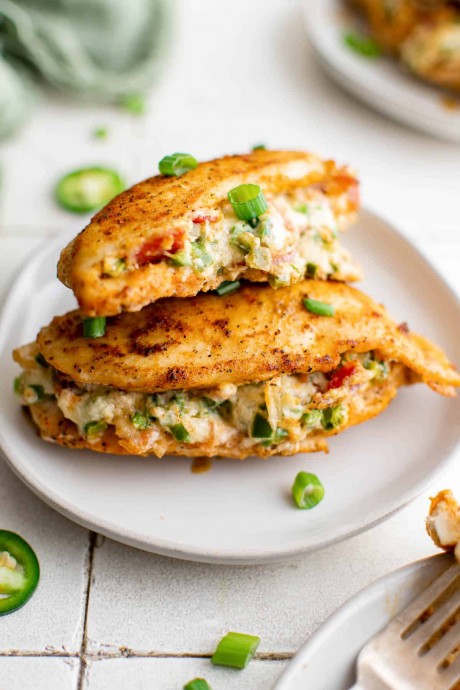 This Jalapeño Popper Stuffed Chicken Recipe is made with well seasoned chicken breasts, stuffed with a mixture of smoky bacon, sharp cheddar, cream cheese, and jalapeños. It is a quick and easy low carb meal, that comes together in about 30 minutes.
recipe tips and variations
Storage: Store leftover jalapeño popper chicken in the refrigerator for up to 4 days.
Reheating: I recommend reheating this in the oven or the microwave.
Make Ahead: If you want to make this ahead of time, you can skip the step of pan-searing the chicken breasts and just stuff the raw chicken breasts and then bake the whole dish when you are ready. You will need to increase the bake time to 30 minutes.
Change up the cheese: In place of the cheddar cheese, you could also use parmesan, gruyere, mozzarella, or pepper jack.
Bread the chicken: This jalapeño popper stuffed chicken is also delicious coated in breadcrumbs. It gives the outside a nice crispy crunch.
Ingredients:
1 teaspoon of garlic powder
1 teaspoon of onion powder
1 teaspoon paprika
1 teaspoon sea salt
1 teaspoon ground black pepper
4 chicken breasts, trimmed
1 tablespoon olive oil
4 ounces cream cheese, softened
8 slices of bacon, cooked crisp and chopped
1 cup of shredded sharp white cheddar cheese
3 jalapeños, seeded and finely chopped