Fresh Strawberry Bars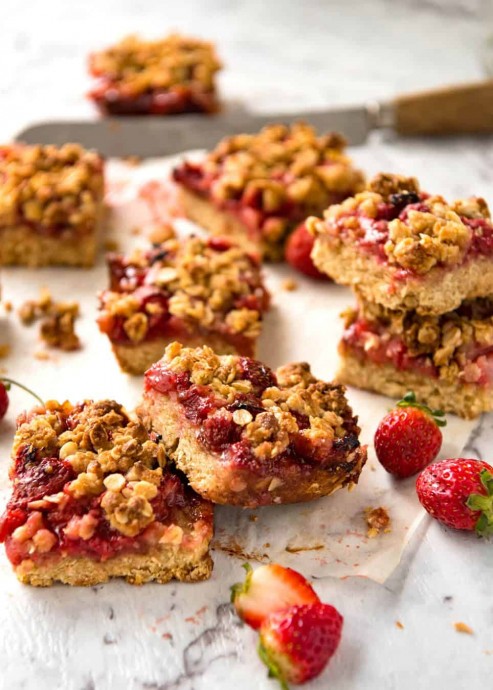 Bursting with sweet, juicy strawberries, these Fresh Strawberry Bars have a buttery oat biscuit base and are finished off with a crumbly topping. No mixer and quick to prepare, don't limit yourself to just strawberries. This Strawberry Bars recipe will work with almost any fruit!
Is it just me who has a serious lack of fresh strawberry recipes in my arsenal?
I certainly have plenty of ways to use them fresh on and in desserts. Garnishing stacks of pancakes and french toast dripping with maple syrup. Or stuffed inside. Tried these Strawberry Nutella French Toast roll ups yet??
However, when it comes to using them in cooked form, I have a pretty limited selection. These Fresh Strawberry Bars are one of the few recipes I have.
Ingredients:
125 g / 1 stick unsalted butter, melted
1½ cups/ 225 g plain flour (all purpose flour)
1½ cups / 135 g rolled oats (traditional oats, not quick, instant or steel cut)
½ cup / 110 g brown sugar
½ tsp baking powder
Pinch of salt
1 egg
2/3 cup strawberry jam
STRAWBERRIES
2 cups chopped strawberries (about 375g)
2 tbsp white sugar
2 tsp cornflour / cornstarch