Buddha Bowl with Veggies and Tahini Dressing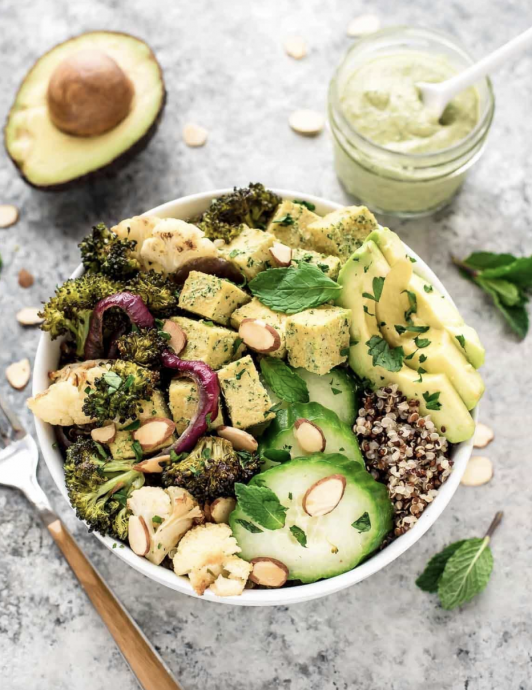 Give your workweek lunch a boost with a simple and healthy Buddha Bowl. Made with roasted veggies, protein-packed quinoa and tofu, and a creamy tahini dressing, buddha bowls are a quick and easy vegetarian and vegan lunch recipe that will leave you glowing!
Ditch that tired ham sandwich and treat yourself to a healthy, filling, and wholesome Buddha bowl.
Made with a marvelous mix of caramelized roasted veggies (including Roasted Broccoli), creamy avocado, crispy tofu, nutty quinoa, and an herby tahini dressing, Buddha bowls are a great-big bowl of feel good. You'll be wowed by its different elements of flavor, texture, and satisfying combination of simple ingredients.
Ingredients:
3/4 cup uncooked quinoa
3/4 pound cut broccoli florets
3/4 pound cut cauliflower florets about 1/2 medium-sized head, cut into slightly smaller pieces than the broccoli
1 medium red onion cut into 1/2-inch rings, rings mostly separated but still left "chunky" (no need to split every layer)
2 tablespoons extra virgin olive oil
1/2 teaspoon kosher salt plus additional for cooking the quinoa
1/4 teaspoon black pepper
1 block extra firm tofu (12 to 14-ounces) (do not use firm or silken), removed from packaged and pressed dry
2 small ripe Hass avocados
Optional for serving: Sliced cucumbers and toasted almonds or pistachios, additional fresh mint and parsley
For the Tahini Dressing:
1/2 cup tahini* well stirred
1/4 cup freshly squeezed lemon juice about 2 large lemons
1 1/2 cups lightly packed fresh mint leaves about 1 of the herb packs
1/2 cup lightly packed fresh parsley leaves
3/4 teaspoon kosher salt
1/4 teaspoon black pepper