Fresh Corn Blueberry Spinach Salad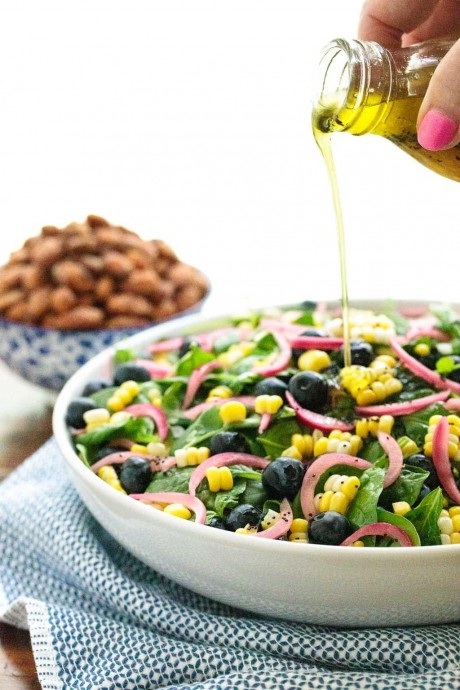 Perfect for summer get togethers, this Blueberry Spinach Salad with tender corn, pickled red onions and sweet/spicy almonds is fresh, delicious and goes so well with grilled entrees!
This is one of those salads that will disappear right before your eyes at picnics, potlucks, parties and family get-togethers. It's loaded with fresh, summery ingredients and is topped with a fabulous poppy seed dressing that everyone seems to love! And the crunchy, salty, sweet and spicy roasted almonds are the crowning glory!
The delicious summer season "parade of produce" is just beginning which is super exciting to me. I've been picking up plump, super sweet blueberries for the past few weeks as well as beautiful fresh corn. Although neither of these ingredients are ready locally, the farmers in the states below us have made them abundant and cheap at our local groceries.
All this makes it the perfect time to make and serve this delicious Fresh Corn and Blueberry Spinach Salad!
Ingredients:
4 ears corn with husks on
8 cups fresh baby spinach
1 cup fresh blueberries
⅓ cup Pickled Red Onions or thinly sliced red onion
⅓ cup Sweet and Spicy Roasted Almonds
Honey-Cider Poppy Seed Dressing