Caramelized Brown Sugar Cinnamon Grilled Pineapple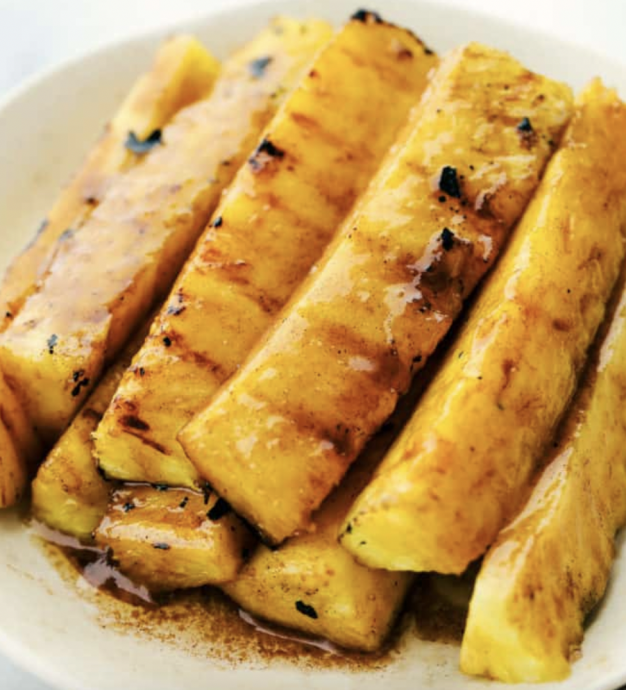 These grilled pineapple spears are coated in a buttery brown sugar cinnamon glaze that is caramelized with 3 simple ingredients and then grilled to perfection. This will be one of the most amazing sides that you grill this summer!
This caramelized brown sugar cinnamon grilled pineapple was the 4th recipe on the blog. As soon as I started my blog I had to put this recipe on it. We make this grilled pineapple every single time that we grill. It is to die for. It is my favorite and adds so much to any grilling or BBQ dish. With this quick and easy recipe you will be sure to have the MOST delicious pineapple and your family will be raving about it.
Have you ever been to Rodizio Grill? Then you know all about the amazing pineapple that they serve! I have been trying to make the amazing sauce that they drizzle over these, and I think I have it perfected. Using only 3 ingredients makes this brown sugar cinnamon glaze to die for. It is so simple to make and will whisk up quickly. Grilling only takes a few minutes and this grilled pineapple will complete any meal as a delicious side dish.
Ingredients
1 pineapple cut into spears
1/2 cup Brown Sugar
1/2 cup Butter melted
1 teaspoon Cinnamon