Easy Raspberry Mousse Recipe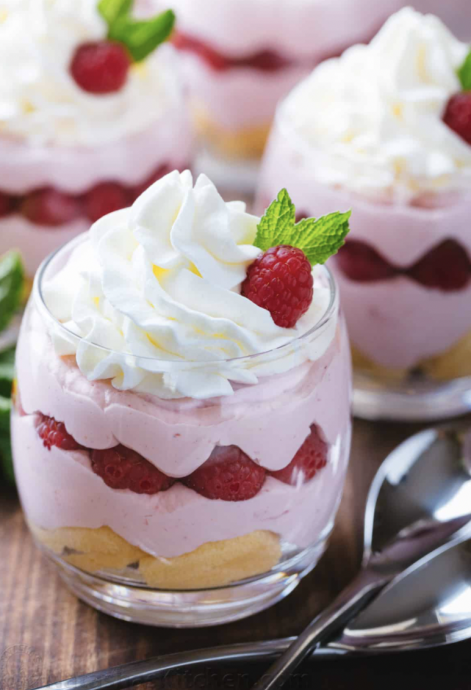 Raspberry Mousse has layers of fresh raspberries, ladyfinger cookies, and a sweet-tart mousse bursting with fresh raspberry flavor. This raspberry mousse recipe is served in individual cups is the mini version of our very popular Charlotte Cake except there's no baking required!
You won't want to put your spoon down! I love that there are NO artificial colors or flavors in this raspberry mousse recipe. That beautiful pink is from real raspberries! It is an easy and impressive dessert.
You can even serve this in disposable cups or if you don't have the little serving cups, you can absolutely layer this raspberry mousse dessert in a trifle dish or a 9×9 square glass pyrex dish and it would still be beautiful and of course, just as delicious!
Ingredients:
For the Raspberry Mousse:
10 oz 2 1/2 cups frozen raspberries
1/2 cup granulated sugar
2 Tbsp fresh lemon juice, from one med/large lemon
1 Tbsp Knox unflavored gelatin (from 1 1/4 packets
3 cups heavy whipping cream
6 Tbsp confectioners, powdered sugar
Filling and Garnish:
1/2 of a 7 oz pkg lady fingers
12 oz package fresh raspberries, reserving 6 berries for garnish
6 to 12 small mint leaves, optional garnish
For the Simple Syrup, stir together:
1 cup warm water
1 Tbsp fresh lemon juice
1 Tbsp granulated sugar