Creamy Mustard Chicken with Bacon and Kale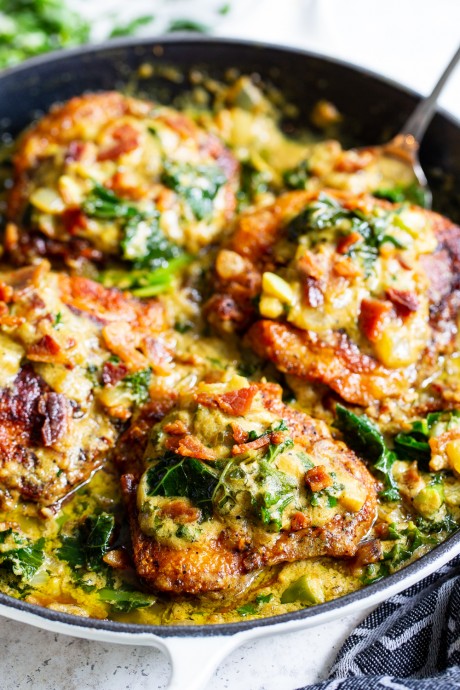 This creamy Mustard Chicken with Bacon and Kale is made all in one skillet and has a flavor packed sauce with crispy seasoned chicken! It's paleo friendly, low-carb and keto. I've been cooking a lot with bone-in chicken thighs, mainly because I love the crispy skin and the fact that they don't dry out the way chicken breasts do.
I know that they take longer to cook, which in my opinion is the only downside – especially when you need to get dinner on the table in under 30 minutes.
Luckily, you can also use boneless thighs or breasts to reduce the cooking time! If you decide to use boneless breasts, just make sure you don't overcook them since they do dry out fast.
The ingredients here are simple and so delicious! Add a combo of salt, pepper, and some poultry seasoning. You can also just use another spice blend that you love.
Ingredients:
6 slices bacon
4 - 6 bone-in chicken thighs
1 tsp fine sea salt
1/4 teaspoon pepper
2 Tbsp bacon fat or ghee
1 small onion diced
4 cloves garlic minced
2 Tbsp fresh chopped parsley
1/3 cup dry white wine or substitute with chicken bone broth for Whole30
1 14 oz can full fat coconut milk
1 Tbsp tapioca flour
3 tablespoons Dijon mustard
3 Tbsp nutritional yeast
2 tsp Balanced Bites savory spice blend
Sea salt and black pepper to taste
2 cups chopped kale spinach, or other greens