Colorful Beet Salad with Carrot, Quinoa & Spinach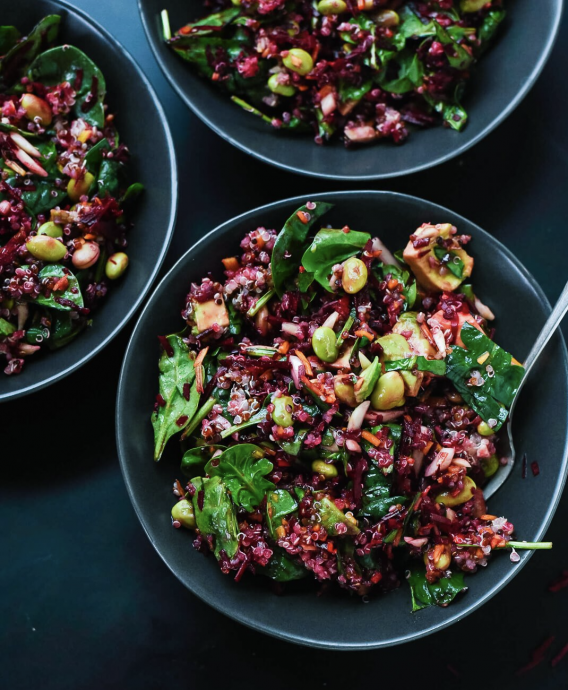 Reset with this healthy beet salad recipe featuring superfoods like carrot, quinoa, spinach, edamame and avocado. This salad is as flavorful and nutritious as its bold colors would suggest.
This beet salad is tender, crisp and irresistible! The light apple cider, lime and herb dressing brings it all together.
It's as colorful as it is nutritious! Recipe yields two meal-sized salads or four side salads. If you plan on having leftovers, store the greens separately from the other prepared ingredients and toss just before serving.
Ingredients:
Salad
½ cup uncooked quinoa, rinsed
1 cup frozen organic edamame
⅓ cup slivered almonds or pepitas (green pumpkin seeds)
1 medium raw beet, peeled
1 medium-to-large carrot (or 1 additional medium beet), peeled
2 cups packed baby spinach or arugula, roughly chopped
1 avocado, cubed
Vinaigrette
3 tablespoons apple cider vinegar
2 tablespoons lime juice
2 tablespoons olive oil
1 tablespoon chopped fresh mint or cilantro
2 tablespoons honey or maple syrup or agave nectar
½ to 1 teaspoon Dijon mustard, to taste
¼ teaspoon salt
Freshly ground black pepper, to taste