Shrimp and Pineapple Kebabs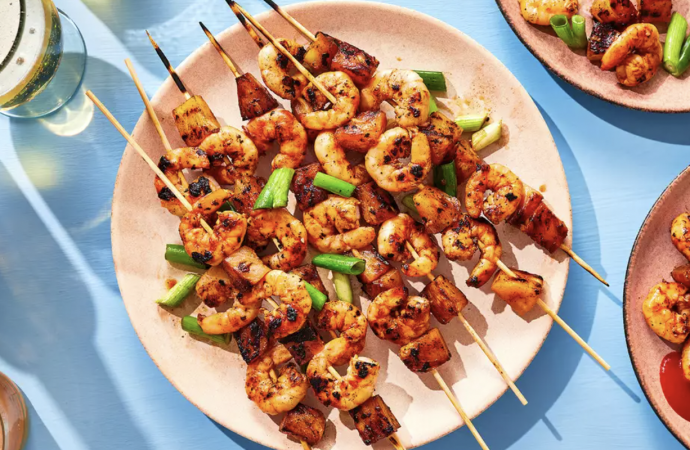 This is a quick and simple way to prepare Hawaiian shrimp kebabs any day of the week that the entire family will love. Since shrimp go so well with just about anything, you can add slices of green bell pepper or red onion to the skewers. Grill the entire dinner by threading a few extra skewers with mushrooms, cherry tomatoes, peppers, and onion. If you are using wooden skewers, make sure you soak them in water for at least 30 minutes.
For a light meal or lunch, serve the shrimp kebabs with a simple lettuce or arugula salad, or serve the shrimp with aromatic coconut rice. Cauliflower rice is an excellent choice if you're cutting carbs. Bring the marinade to a full boil if you plan to serve it with the shrimp or use it for basting.
The shrimp kebabs make delicious party food as well. Scale the recipe up and use short skewers or remove the shrimp and pineapple from the skewers and serve them with toothpicks.
Ingredients:
1 (15-ounce) can pineapple chunks
3 tablespoons pineapple juice, reserved from the can
3 tablespoons soy sauce
1/2 tablespoon sesame oil
1/2 teaspoon Sriracha, more to taste
3 green onions, cut into 1-inch pieces, divided
1 to 2 cloves garlic, crushed
1 pound shrimp, peeled and deveined