Berry Trifle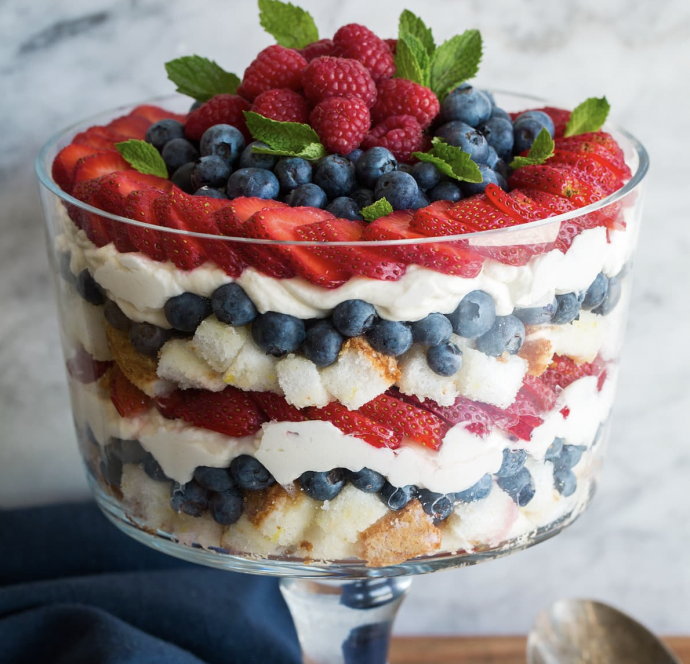 The easiest Berry Trifle recipe – it's layered with lemony angel food cake, a rich and billowy cream cheese whipped cream topping, and an abundance of vibrant fresh fruit. It's a decadent and heavenly dessert!
This multicolor trifle is a quintessential summery treat, the crowning finish of any meal. It's loaded with all the best things including cake, berries and lots of cream (that's flavored with cream cheese as well).
And don't be deceived by it's fancy good looks, you'll actually find it really a breeze to prepare. That is thanks to the use of a store-bought cake to save plenty of prep time and no cool time required.
Ingredients:
1 (13 to 16 oz) store-bought angel food cake
3 Tbsp fresh lemon juice
1 1/2 tsp lemon zest
3 Tbsp honey
1 3/4 cups heavy cream, well chilled
12 oz. cream cheese, slightly softened
1 1/4 cups (160g) powdered sugar
1 1/2 tsp vanilla extract
16 oz. fresh strawberries, hulled and sliced
18 oz. fresh blueberries
6 oz fresh raspberries, optional
Mint leaves, optional