Banana Cheesecake Cake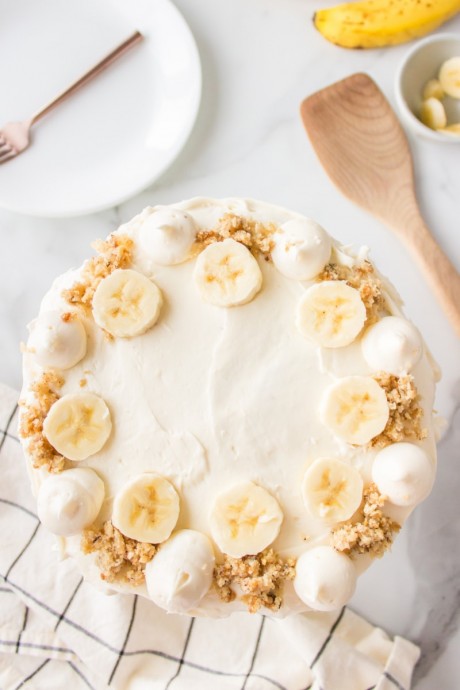 Banana Cheesecake Cake is made up of two layers of banana cake with a layer of cheesecake in the middle, and it's covered in cream cheese frosting.
I haven't shared one of my famous cheesecake cakes in such a long time, but this new recipe I created for banana cheesecake cake is a big-time winner. Think about how much you love banana bread. And if you happen to be a cheesecake lover too, well then you've hit the jackpot. All of that is combined into one cake here. And you're going to be really happy with how this one looks and tastes!
Ingredients:
Cheesecake:
Two 8-ounce packages cream cheese, at room temperature
⅔ cup granulated white sugar
Pinch of salt
2 large eggs
⅓ cup sour cream
⅓ cup heavy whipping cream
1 teaspoon vanilla extract
Banana cake:
3 cups all purpose flour
2 cups granulated white sugar
1 teaspoon baking soda
1 teaspoon ground cinnamon
½ teaspoon ground nutmeg
½ teaspoon salt
3 large eggs, at room temperature
¾ cup vegetable or canola oil
2 teaspoons vanilla extract
1½ cups mashed ripe bananas
1 cup chopped toasted pecans
Cream cheese frosting:
2½ cups powdered sugar, sifted to remove lumps
Two 8-ounce packages cream cheese, at room temperature
½ cup (1 stick) salted butter, at room temperature
1 tablespoon vanilla extract
For serving:
Sliced banana
Caramel syrup