Red White and Blueberry Crumb Cake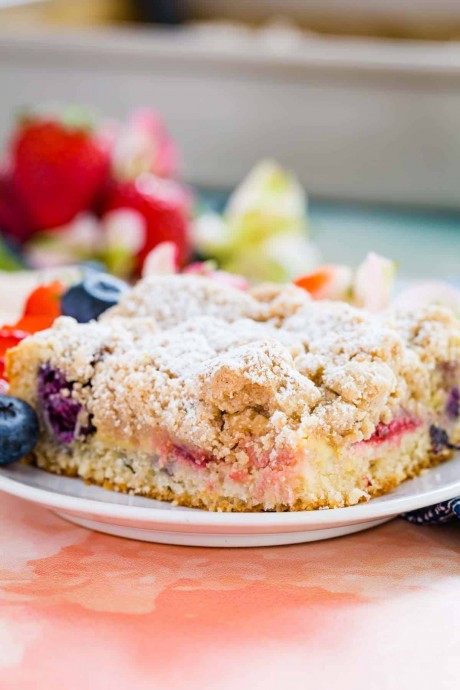 This scrumptious Red White and Blueberry Crumb Cake tastes just as incredible as your house smells as it bakes! This patriotic breakfast coffee cake with red strawberries and juicy blueberries is perfect for the Fourth of July, but can also be enjoyed any day!
This crumb cake comes together in four easy layers: a tender cake followed by a moist cream cheese layer, a berry layer, and crumb topping. Here are the ingredients you'll need (below is an overview, don't forget to check the recipe card for full amounts!):
For the Crumb Topping:
Gluten Free Flour: I recommend using a 1:1 gluten free flour blend, like the one from Bob's Red Mill. You'll need it for the crumb, the berries, and the cake!
Brown Sugar: I use light brown sugar in my crumb, but you can use dark brown sugar if you prefer a more caramelized flavor.
Cinnamon: A couple teaspoons of ground cinnamon brings a delicious warmth to the streusel.
Butter: Unsalted butter that's been melted and cooled.
Ingredients:
For the crumb topping:
2 1/2 cups 1:1 gluten free flour
1 cup light-brown sugar packed
2 tsp ground cinnamon
3/4 cup unsalted butter (1 1/2 sticks), melted and cooled
For the cream cheese layer:
4 oz cream cheese regular or light, at room temperature
1 egg yolk
1/4 cup powdered sugar
1/2 tsp pure vanilla extract
For the berry layer:
1 tsp 1:1 gluten free flour
1/2 cup blueberries rinsed and dried
1/2 cup strawberries sliced
For the cake:
2 tbsp canola oil
1 1/2 cups 1:1 gluten free flour
1/2 cup granulated sugar
2 1/2 tsp baking powder
1/2 tsp salt
1 large egg
1/2 cup milk
2 tsp pure vanilla extract
Powdered sugar for dusting