Cowboy Pasta Salad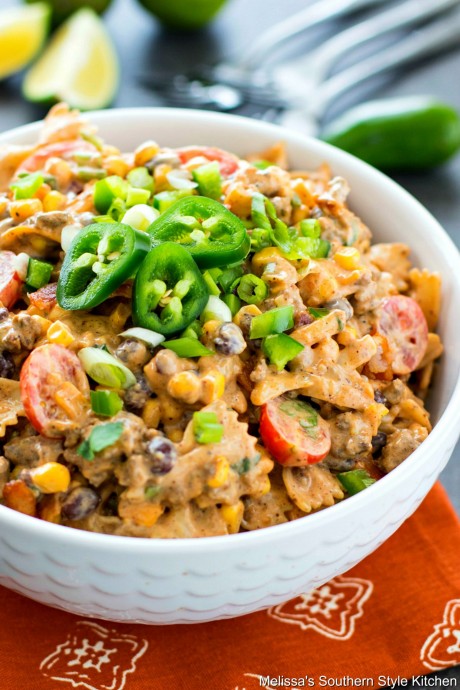 This colorful Cowboy Pasta Salad is guaranteed to bring the flavor to your pasta salads menu. It's so hearty, it can double as a side dish or an entrée. This pasta salad is another one of our favorite recipes that does double duty. Don't be intimidated by the ingredient list, as the ingredients aren't difficult to find and, you're making the dressing homemade as well.
The dressing for this salad has a bit of a spicy-sweet vibe but, not too sweet. The barbecue sauce lends some smokey notes to the mayo and can be adjusted depending on the brand you use. You can also garnish this salad with crushed Frito or tortilla chips just before serving.
Trifles are a sort of edible centerpiece, that always looks stunning on the table regardless of the type of gathering, be it a casual game day soirée, or a holiday event. This cowboy pasta salad is purely addicting loaded with juicy ground beef, bacon, sweet corn, black beans, tomatoes and cheese smothered in tangy, creamy southwest barbecue sauce! This Cowboy Pasta Salad is delicious slightly chilled but equally delicious served warm. No matter how you serve it, this Cowboy Pasta Salad is going to be the new family favorite.
Ingredients:
1 lb bow tie pasta cooked to al dente
1/2 lb bacon cooked and diced reserve 3 Tbsp drippings
1 lb lean ground beef
1 small onion diced
1 pint cherry tomatoes halved
1 bunch green onions thinly sliced
1 small jalapeno pepper (or green bell pepper) seeded and diced
1 14.5 oz can sweet corn drained
1 14.5 oz black beans drained and rinsed
2 cups shredded colby-jack, cheddar or pepper jack cheese
1/4 cup chopped cilantro may adjust to taste (optional)
Dressing:
1 cup real mayonnaise
1 8 oz sour cream
1/2 cup barbecue sauce (i.e. Sweet Baby Ray's or your favorite)
1 1.0 oz packet dry Ranch dressing mix
1 1.0 oz packet taco seasoning