Vegan Peach Pie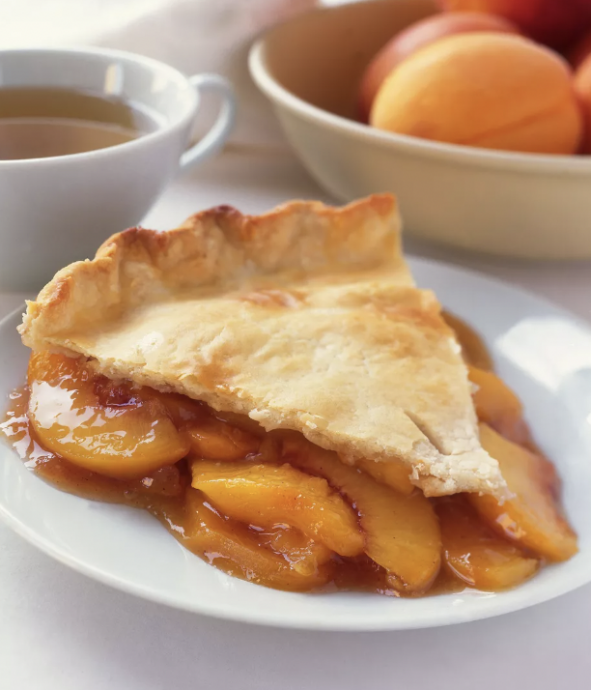 Our deliciously crispy and sweet vegan peach pie is a breeze to make and will convert all your non-vegan eaters with how well it rivals butter-based peach pies. If you need a dairy-free and egg-free dessert to cater to vegan friends or family, or because you abstain from eating milk or eggs for personal or dietary reasons, look no further. Nothing is quite as comforting as the smell of a peach pie and our version prepared with fresh peaches, sugar, spices, flour, and soy milk is simply perfect. Additionally, you need to have at hand a dairy-free pie dough, store-bought or homemade. If you have plenty of summer peaches, this is a great way of putting them to tasty use, but in a pinch use frozen peaches or drained unsweetened canned slices. Easy to prepare and quick to bake, the pie needs some time to cool off and set, so plan ahead and allow it to at least come down to a warm temperature before slicing. Serve with vegan vanilla ice cream or whipped coconut cream, for a decadent vegan treat.
If you are buying peaches just for the purpose of this recipe, be mindful that although all peaches are delicious, some are better than others when it comes to baking. Most peaches in supermarkets are freestone, which means that the pit is detached from the flesh, making it easier to slice and eat. Clingstones are peaches whose pit is attached to the flesh and are better eaten with your hands so you can rip and suck all the bits from around the pit. Yellow or white, freestones are firmer and thus better for baking. When buying, look for unblemished skins, firm texture that has a little give, and fragrant smell. Choose organic when possible, especially if you are eating the skin.
By default, our vegan recipe is dairy and egg-free but it does contain soy: we use soy milk to brush the top and most store-bought or vegan homemade pie doughs have soy margarine in them. If needed, use any other plant beverage of your choice, but choose one that is thick like soy, such as cashew, hazelnut, or full-fat oat milk.
Ingredients
1 dairy-free pie crust
5 1/2 cups peeled fresh peach slices
1 teaspoon lemon juice
1/3 cup all-purpose flour
3/4 cup unrefined cane sugar, or white granulated sugar, plus more for sprinkling
1/2 teaspoon cinnamon
1/4 teaspoon salt
2 tablespoons unsweetened soy milk, for brushing