Easy Chicken Fried Rice Recipe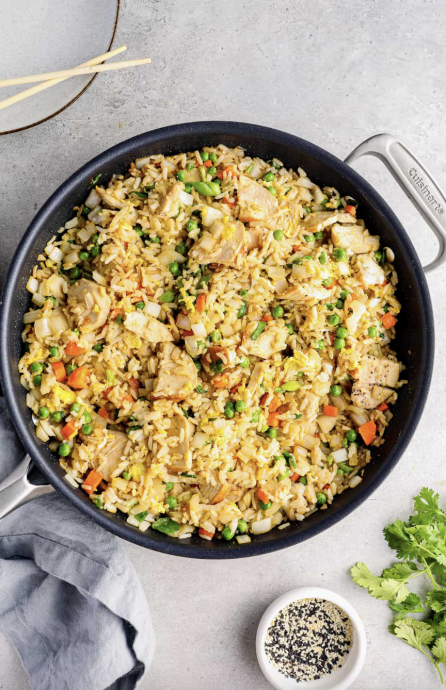 This authentic easy chicken fried rice recipe is better than takeout and it's quick and easy to make! Loaded with fresh veggies, this homemade version is healthier, while still being filled with flavor. It's also great for meal prep, and the leftovers taste delicious!
Chicken Fried Rice is made with a handful of ingredients, including fresh and frozen vegetables, a good quality chicken breast, and a couple of eggs. Plus a few aromatics that give this fried rice recipe it's authentic Chinese flavor.
Ingredients:
2 cups cooked white rice Jasmine or Basmati
3 tablespoons plus 1 teaspoon canola or vegetable oil divided
1 boneless skinless chicken breast
1 small yellow onion diced
1 medium carrot peeled & diced
3 scallions thinly sliced diagonally
2 medium cloves garlic minced
3 teaspoons low sodium soy sauce
2 teaspoons toasted sesame oil
kosher salt & freshly ground black pepper to taste
1 tablespoon mirin
1 cup frozen baby peas
2 large eggs lightly beaten