Cold Soba Noodle Salad Recipe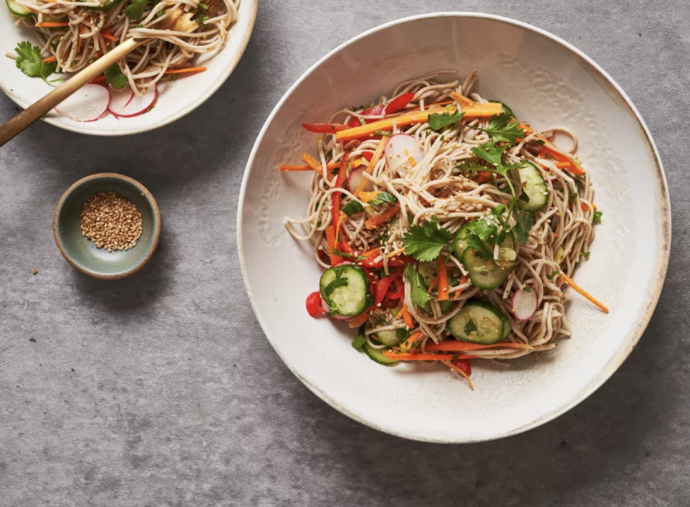 Summer is here and the heat is on! And that means no one wants to crank up their oven or turn on their stove if they can help it. Luckily, this cool and crunchy soba noodle salad requires minimal heat (just enough to cook the delicate noodles) and packs lots of flavor.
Fresh cucumber, crunchy carrots, bright bell pepper, zesty radishes and spring onions add brightness and texture to the chewy buckwheat noodles. The sauce is a refreshing combination of flavors: sour lime juice and vinegar, sweet honey, spicy ginger and chili sauce, and nutty sesame oil. It's perfect for a summer lunch and travels well if you're eating al fresco. Eat this dish on its own or pair it with tender grilled fish.
Ingredients
8 ounces dried soba noodles
2 tablespoons grapeseed oil, or canola oil
1 lime, juiced
1 tablespoon grated fresh ginger
1 tablespoon rice wine vinegar
1 teaspoon sesame oil
1 teaspoon honey
1 teaspoon chili sauce, such as Korean chili sauce, or Sriracha
1 dash salt
1 dash freshly ground black pepper
4 small Persian cucumbers, thinly sliced
2 carrots, cut into matchsticks or coarsely grated
1 small red or yellow bell pepper, thinly sliced
6 small radishes, thinly sliced
4 spring onions, sliced
2 tablespoons packed chopped fresh cilantro
1 tablespoon sesame seeds