Grilled Corn Salad with Avocado, Goat Cheese & Hot Honey Vinaigrette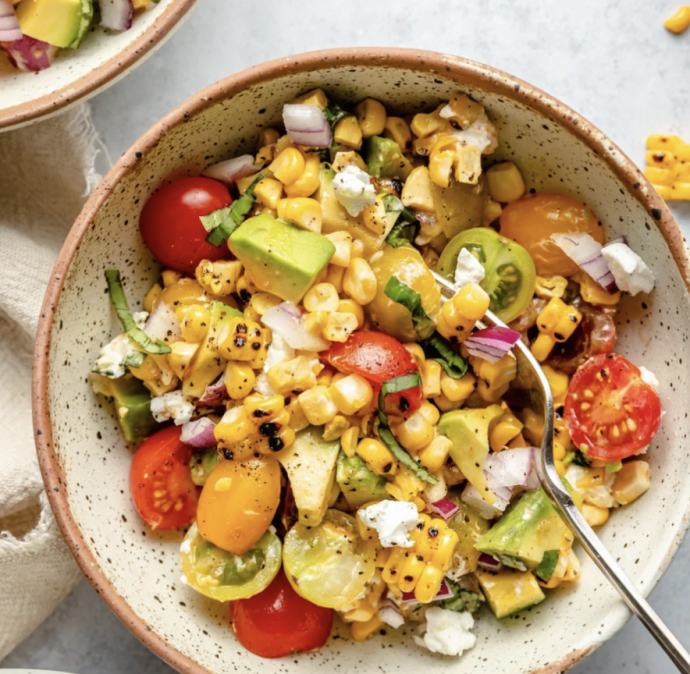 Gorgeous grilled corn salad with creamy avocado, tangy goat cheese, and a sweet & spicy hot honey vinaigrette that will knock your socks off. This fresh, easy grilled corn salad comes together in a few simple steps and makes the perfect summer lunch or side dish! Enjoy it on its own or add your favorite protein for a full meal.
It's sweet corn season! I remember during the summers when I was little we would lay out a big picnic blanket and and eat ears and ears of grilled sweet corn all buttered up and salted to perfection. There's truly nothing better (or nostalgic) than sweet corn during the summer and I'm here to bring you a new recipe that elevates the average ear of corn into something truly fabulous.
This beautiful grilled corn salad is filled with creamy avocado, crunchy veggies, a little tang from goat cheese (or sub feta!), and a perfectly sweet and spicy hot honey vinaigrette to pull it all together. I thought about going with a simple cilantro lime dressing or a more basic vinaigrette, but one taste of this hot honey version and I was HOOKED (and you will be, too).
The best part about this lovely salad is that it doubles as an easy side dish or appetizer for your BBQs and potlucks! I enjoyed it straight from the bowl but it would be perfect as an easy, flavorful dip with chips. Add your fav protein to make it a nice hearty meal, and remember to check out the full post for more ways to customize.
Ingredients:
For the grilled corn:
4 ears of corn
1 tablespoon avocado oil
Freshly ground salt and pepper
For the salad:
1 ½ cups halved cherry tomatoes (i love heirloom cherry or grape tomatoes!)
1 avocado, diced
1/3 cup goat cheese crumbled
¼ cup diced red onion or sub green onion
6 large leaves basil, julienned
Hot Honey Vinaigrette:
2 tablespoons avocado oil or olive oil
1 tablespoon honey
Pinch of cayenne pepper OR 1/2 teaspoon hot sauce of choice
2 teaspoons apple cider vinegar (or sub fresh lime juice)
¼ teaspoon dijon mustard
⅛ teaspoon garlic powder
Freshly ground salt and pepper, to taste