Vegan Caesar Pasta Salad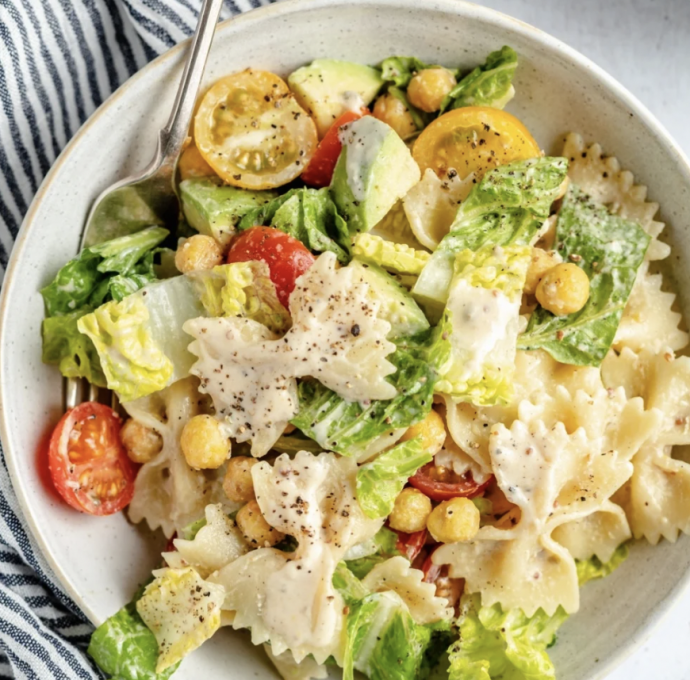 Fresh and delicious vegan caesar pasta salad with creamy avocado, crunchy roasted chickpeas and a flavorful homemade vegan caesar dressing. This vegan caesar pasta salad makes the perfect summer lunch or easy side dish to serve at your next potluck or BBQ!
Customize your veggies. Out of romaine? Feel free to use a kale base. This pasta salad would also be delicious with sliced persian cucumbers, red onion, or even grilled corn.
Add some cheese. If you're not vegan, feel free to add a sprinkle of freshly grated parmesan cheese or feta crumbles! This vegan parmesan would also be perfect.
Use your fav protein. Feel free to use regular chickpeas from the can if you don't have any roasted, or add some delicious grilled chicken or even cooked, chopped bacon if you're not vegetarian.
Ingredients:
8 ounces rotini or bowtie pasta (or pasta of choice -- gluten free, if desired)
2 hearts romaine, chopped
1 firm but slightly ripe avocado, diced or sliced
1 ½ cups halved cherry or grape tomatoes
1 ½ cups roasted chickpeas -- we love the Biena ranch flavor or sea salt (regular, unroasted chickpeas is also fine, but roasted will have more flavor)*
Freshly ground salt and pepper, to taste