Peanut Butter Jam Thumbprints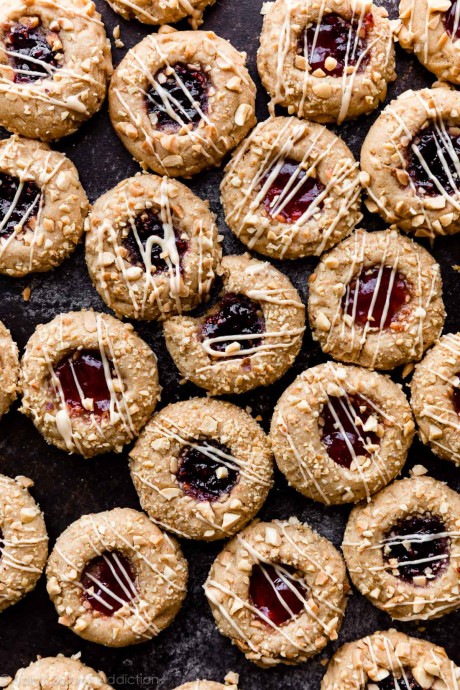 These peanut butter jam thumbprints combine extra soft peanut butter cookies, salty peanuts, and a sweet jam filling. Use your favorite jelly flavor like strawberry, grape, or raspberry. Add a simple drizzle of peanut butter white chocolate for extra flair. Chilling this cookie dough is imperative, so make sure you follow the recipe closely. These peanut butter & jelly thumbprint cookies are extra soft with mega peanut butter flavor.
Here's why you'll love them: They are extremely soft, with irresistible peanut butter flavor and sweet jam filling. They are full of salty crushed peanuts and peanut butter white chocolate topping that sets. This is totally optional, but if you want to dress up your peanut butter jam thumbprints, add a drizzle of peanut butter white chocolate. Melt 4 ounces of pure white chocolate, then stir in a heaping Tablespoon of creamy peanut butter. Drizzle all over the cookies. I always use a squeeze bottle for drizzling, but a spoon works too. Amazingly delicious!
Ingredients:
1 and 1/4 cups (155g) all-purpose flour (spoon & leveled)
1/2 teaspoon baking soda
1/4 teaspoon salt
1/2 cup (1 stick; 115g) unsalted butter, softened to room temperature
1/2 cup (115g) packed light or dark brown sugar
1/4 cup (50g) granulated sugar
1 large egg, at room temperature
3/4 cup (195g) creamy peanut butter
1 teaspoon pure vanilla extract
3/4 cup (110g) finely chopped salted peanuts
6 Tablespoons (120g) jam
Peanut Butter White Chocolate Drizzle
one 4-ounce quality white chocolate bar (113g), finely chopped
1 heaping Tablespoon creamy peanut butter