Spicy Buffalo Loaded Sweet Potato Skins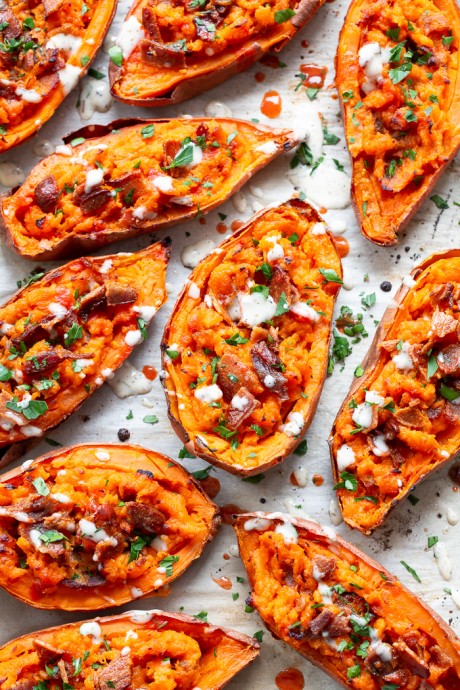 We're taking sweet potatoes to a new level today with these spicy loaded buffalo sweet potato skins! The skins are baked until crisp and then loaded with the most delicious filling. One bite and you'll be addicted! Perfect appetizer or fun side dish! Just take out the insides of the sweet potatoes and mix them with hot sauce, ghee, (or coconut oil if preferred), dairy free milk for creaminess, and spices for flavor. You have the option of including some nutritional yeast for a "cheesy" flavor. Oh and the bacon.
The skins themselves are baked until crisp, then loaded up with the filling plus more bacon and baked again to crisp up more. Then, more bacon is sprinkled over everything along with additional hot sauce and a drizzle of ranch if that's your thing. The result is seriously the yummiest sweet potato skin you can imagine! Sweet and spicy, packed with flavor and loaded up with bacon. It's just perfect! I've been eating these for lunch but they're obviously perfect to serve as an appetizer or a fun side dish. They're easy to reheat (sans the ranch) so making ahead of time is also an option! Grab some hot sauce, bacon, and those sweet potatoes (of course) and let's make this happen!
Ingredients:
5 med sweet potatoes scrubbed
coconut oil and sea salt, for baking the potatoes
8 slices bacon cooked and crumbled
2 1/2 Tbsp ghee melted, or other cooking fat (coconut oil, bacon fat), plus some to brush on potatoes
3 Tbsp dairy-free milk coconut or almond
1 Tbsp spicy brown mustard
2-3 Tbsp hot sauce or to taste
2 Tbsp nutritional yeast optional, for flavor
1/2 tsp onion powder
1/2 tsp garlic powder
1/2 tsp sea salt
1/4 tsp black pepper
Fresh herbs or green onion for garnish
Additional hot sauce to serve with
Ranch dressing for serving