Apple Cinnamon Spiral Bread with Caramel Cream Cheese Frosting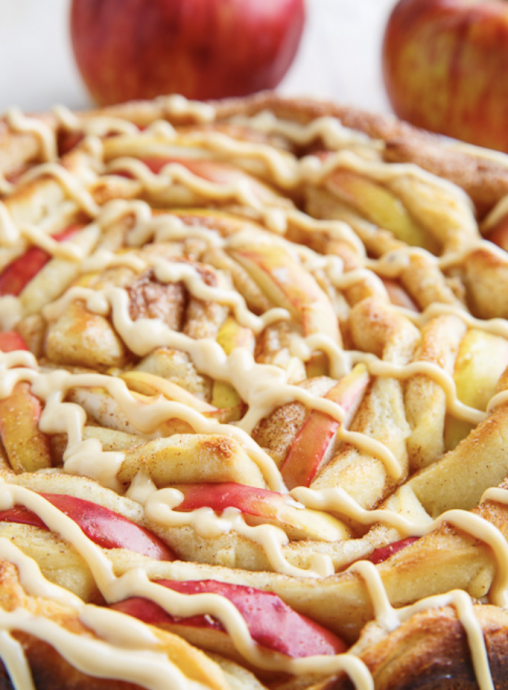 Moist, light and tender spiralling apple cinnamon filled bread topped with caramel cream cheese frosting!
Since apples and cinnamon go well together I kept the cinnamon bun layer of cinnamon sugar in each spiral in addition to the apple slices. I enjoy cinnamon buns topped with a nice cream cheese based frosting and since apples and caramel are such a natural flavour combination I topped this apple cinnamon spiral bread with a caramel cream cheese frosting! No matter how you slice it this cinnamon spiral bread with caramel cream cheese frosting is one amazingly good combination of flavours that is perfect for breakfast this Thanksgiving!
For the basic sweet dough:
1/4 cup water (warm)
1 tablespoon active dry yeast
1 teaspoon sugar
1/3 cup sugar
2 eggs (room temperature)
1/3 cup butter (melted)
1/2 cup sour cream (room temperature)
1 teaspoon vanilla extract
1 teaspoon salt
3 1/4 cups flour
For the caramel cream cheese frosting:
4 ounces cream cheese
1/4 cup caramel sauce
For the apple spiral bread:
2 large apples, cored and sliced
2 tablespoons butter, melted
1/3 cup sugar
2 teaspoons cinnamon