Roasted Cauliflower and Farro Salad with Feta and Avocado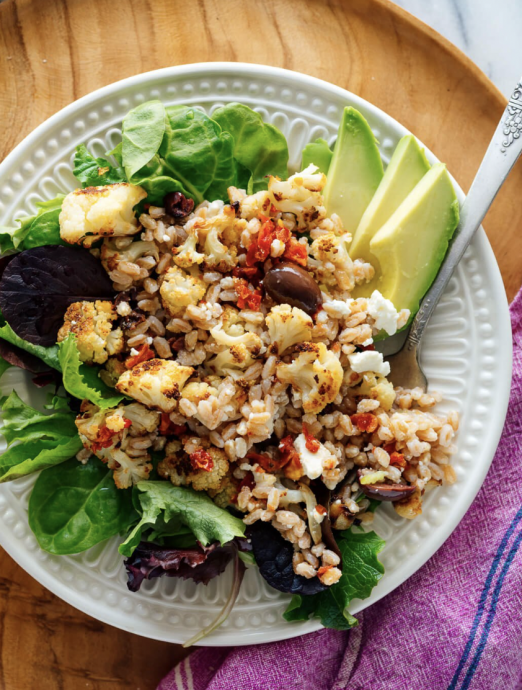 Trying to eat better this year? I know, it's extra-hard when it's freezing cold outside and delivery pizza is just one call away. This warm, fresh yet hearty salad is the perfect solution. It packs well for lunch, too.
I really love the combination of garlicky farro with roasted cauliflower and salty feta and olives. Farro is an ancient grain related to wheat that you should be able to find in the health section of grocery stores. It's nutty in flavor, freezes and defrosts well, and offers some heft to salads.
Fresh greens, sliced avocado, and lemon round it out. This seasonless salad is bursting with bold Mediterranean flavors.
Ingredients:
Roasted cauliflower
1 large head cauliflower (about 2 pounds), cut into bite-sized florets
2 tablespoons extra-virgin olive oil
¼ teaspoon red pepper flakes (scale back or omit if sensitive to spice)
¼ teaspoon fine sea salt
Garlicky farro
1 cup uncooked farro, rinsed
2 teaspoons extra-virgin olive oil
2 cloves garlic, pressed or minced
¼ teaspoon fine sea salt
Everything else
⅓ cup pitted Kalamata olives, rinsed, half sliced into small rounds and the rest halved lengthwise
¼ cup oil-packed sun-dried tomatoes, rinsed and roughly chopped
½ cup crumbled feta (about 2 ounces)
1 tablespoon lemon juice (about ½ lemon), plus more for serving
Freshly ground black pepper, to taste
1 avocado, sliced into thin strips
4+ handfuls leafy greens (spring greens, spinach, arugula or baby kale are all good choices)