Strawberry Brownies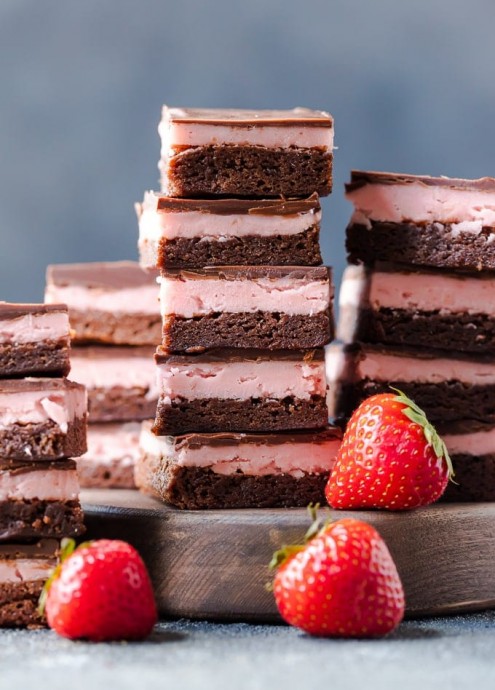 Strawberry Brownies are the perfect mix of sweet, fruity, light strawberry flavor and rich, delicious chocolate. You've got the flavor of chocolate covered strawberries in brownie form! This easy brownies recipe is a delectable dessert that everyone will devour! This strawberry brownies recipe is a sweet and chocolatey dessert made for every occasion. A layer of chocolate and a layer of creamy strawberry filling are the perfect match!
This easy brownies recipe is a lot simper than it looks. You start by baking the brownie layer, then make the strawberry filling to add in next, and top it off with the layer of melted chocolate. You will have to factor in some time for the cooling process while the layers set, but other than that, this is a pretty quick and easy recipe.
This Chocolate Covered Strawberry Brownies recipe is the perfect mix of chocolate and strawberry, with a soft, fresh brownie later and a creamy strawberry layer. And you get that hard chocolate layer to top it off! These strawberry brownies are perfect for holidays, parties, or just because any day is a good day for a batch of brownies. Try this Chocolate Covered Strawberry Brownies recipe for a Valentine's treat or any time you're craving the flavor of a chocolate dipped strawberry!
Ingredients:
½ cup butter salted, softened
1 cup sugar
4 large eggs
1 16 ounce can chocolate syrup
1 teaspoon vanilla extract
1/2 teaspoon kosher salt
1 cup all-purpose flour
½ cup butter salted, softened
1 cup powdered sugar
¼ cup strawberry spread (jam or jelly)
1 10 ounce package semi-sweet chocolate chips
½ cup plus 1 tablespoon butter cubed