Ranch Chicken Meatballs With Broccoli Couscous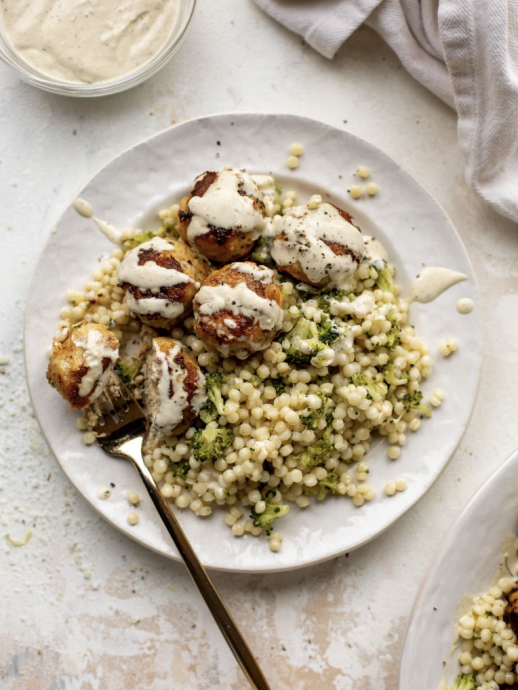 We love these ranch chicken meatballs! Juicy chicken meatballs drizzled with ranch dressing and served with broccoli couscous for a delicious weeknight meal.
Hello! Dinner is going to be delicious tonight! Cue all the exclamation points because these chicken meatballs are juicy and flavorful! They're served with couscous loaded with broccoli and everything is drizzled in a bit of my homemade ranch. I can't get enough of this meal. Wish I was eating it right this moment! For this broccoli couscous, we're cooking it all in one pot. Oh yes. It's that easy! I like to chop the broccoli into tiny florets. This ensures that it cooks quickly with the couscous. And let's be honest – if it's in smaller pieces, my kids are more likely to eat it. Broccoli is the #1 veg in our house at the moment, but when I serve it in a new way, I try to make it as easy to consume as possible.
This side dish is just super simple and delicious. Nothing fancy!
Ingredients:
Ranch chicken meatballs
1 pound ground chicken, i like 93% lean
1 large egg, lightly beaten
⅓ cup finely grated cheddar cheese
¼ cup seasoned breadcrumbs
1 teaspoon dried chives
1 teaspoon garlic powder
1/2 teaspoon dried dill
¼ teaspoon onion powder
Kosher salt and pepper
2 tablespoons olive oil, for cooking
Ranch dressing, for serving
Broccoli couscous
3 cups chicken or vegetable stock
2 cups dry couscous
1 ½ cups broccoli florets, i like tiny florets for this!
1 tablespoon unsalted butter
Kosher salt and pepper