Avocado Buffalo Chickpea Salad Wraps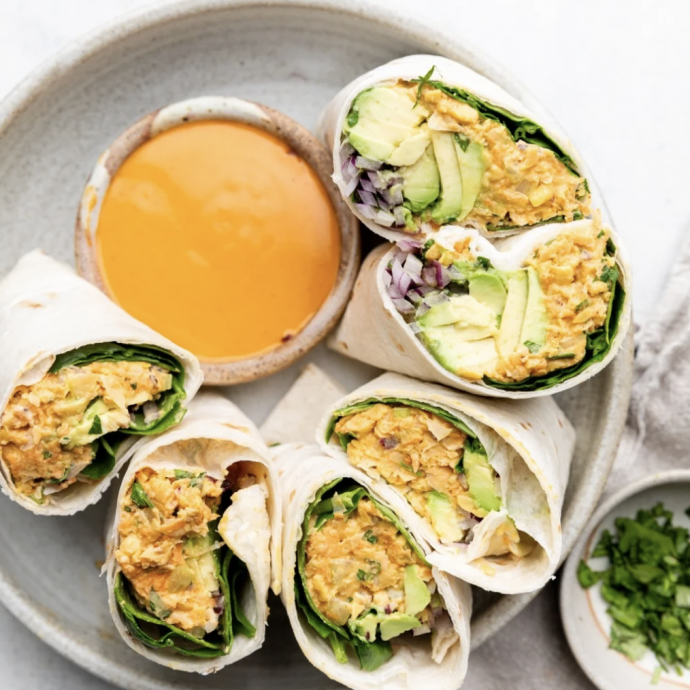 Flavorful buffalo chickpea salad wraps packed with crunchy veggies, creamy avocado, and fresh spinach. These easy buffalo chickpea wraps are packed with protein thanks to yogurt and a full can of chickpeas for the perfect packable weekday lunch! The idea for these amazing buffalo chickpea salad wraps came out of this newfound love. We're not just making wings here, people! This amazing wrap is loaded with veggies and protein thanks to chickpeas and my go-to siggi's yogurt. The yogurt also adds the perfect creamy, cooling balance to your fav buffalo sauce, and the whole thing is wrapped up with fresh, crunchy veggies.
I've included tons of delicious ways to customize your wraps, plus fun new ways to eat the buffalo chickpea salad! I know you'll love this one.
Ingredients
For the salad:
1 (15 ounce) can chickpeas, rinsed and drained
1 stalk celery, diced
1/2 cup shredded carrot (from 1 medium carrot)
1/4 cup diced cilantro
2 tablespoons finely diced red onion
For the dressing:
¼ cup siggi's plain yogurt
3-4 tablespoons buffalo sauce, depending on your spice level
For the wraps:
3 (8-inch) tortillas of choice (a standard easy to wrap tortilla is fine)
1 avocado, sliced
2-3 cups fresh spinach
Sliced red onion