Falafel Burgers With Tzatziki Slaw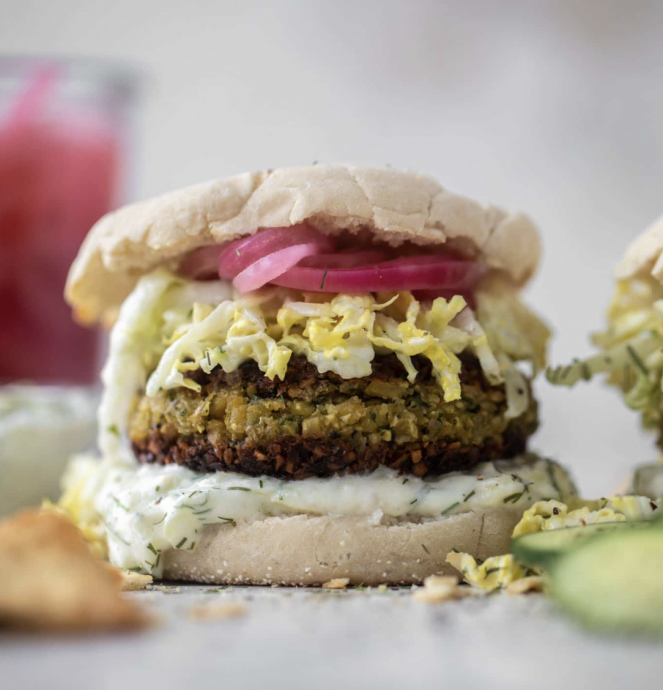 We love these falafel burgers! Crispy, chewy falafel burgers on a toasted english muffin bun with a tzatziki slaw and pickled onions. This meal is absolute perfection!
Now this is my kind of burger.
A loaded falafel burger on a toasted english muffin with crisp tzatziki slaw? Sign me up.
I could eat this every single day and be thrilled!Truly, this burger is heavenly.
Ingredients:
1 ½ cups dry chickpeas, soaked overnight
½ sweet onion, diced
½ cup parsley
¼ cup cilantro
¼ cup basil
2 tablespoons snipped chives
4 garlic cloves, chopped
1 tablespoon all-purpose flour
1 ½ teaspoons cumin
1 teaspoon salt
½ teaspoon freshly grated lemon zest
½ teaspoon smoked paprika
¼ teaspoon freshly cracked black pepper
3 to 4 tablespoons olive oil, for cooking
toasted english muffins, for serving
pickled onions, for serving
1 cup plain greek yogurt
¼ cup grated cucumber
1 teaspoon dried dill
2 garlic cloves, minced
1 lemon, juiced and zest freshly grated
kosher salt and pepper
2 cups shredded napa cabbage