Creamy Miso Peanut Chicken Lettuce Wraps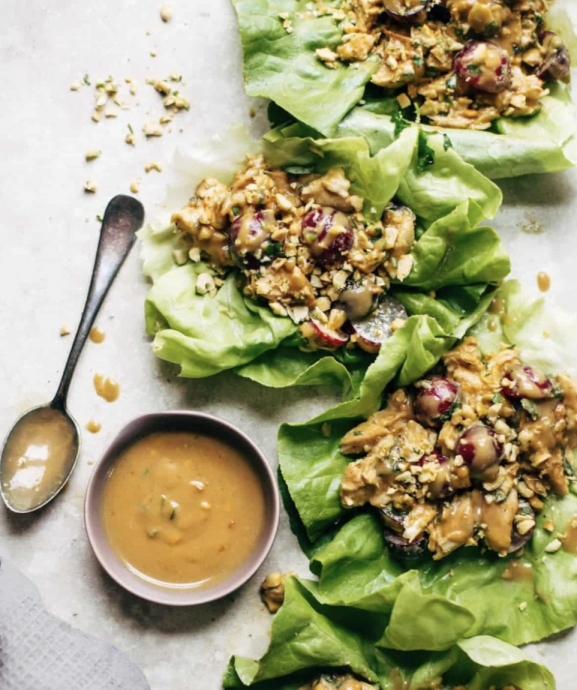 Miso + crunchy peanut butter + chili spiced chicken + grapes. It doesn't even make sense, you say. Oh, but friend, it most definitely DOES. It's a classic chicken salad meets an Asian chicken salad meets a lettuce wrap – all those flavors and textures together? Just amazing!
It's been way too long since I made a meal that's as lunchable as this one. I mean, I definitely have a deep, longtime love of warm lunches – a creamy soup and a melty-cheese panini combo is basically everything my life is meant to be and more. Minnesota fall, winter, and spring just requires this of us.
But there is something to be said for that quick chicken-salad style lunch that is addictingly delicious eaten straight outta the fridge, and in this case, wrapped in light and delicate butter lettuce leaves. Or if you're being extra self-generous, scooped up with crackers or chips. It's ready to be an amazing lunch for you at barely a moment's notice. Grab and devour.
Ingredients:
For the Sauce:
1/4 cup crunchy peanut butter
3 tablespoons miso
1/2 cup broth or water
1 tablespoon soy sauce
1 clove garlic, minced
3 green onions, minced
1 jalapeno, ribs and seeds removed, minced (optional)
For the Lettuce Wraps
1 lb. boneless skinless chicken breasts
1 tablespoon chili powder
salt and pepper to taste
3 cups red, green or black Grapes from California, halved
butter lettuce leaves for serving
lime juice