Baked Coconut Shrimp with Springy Rice and Honey Butter Sauce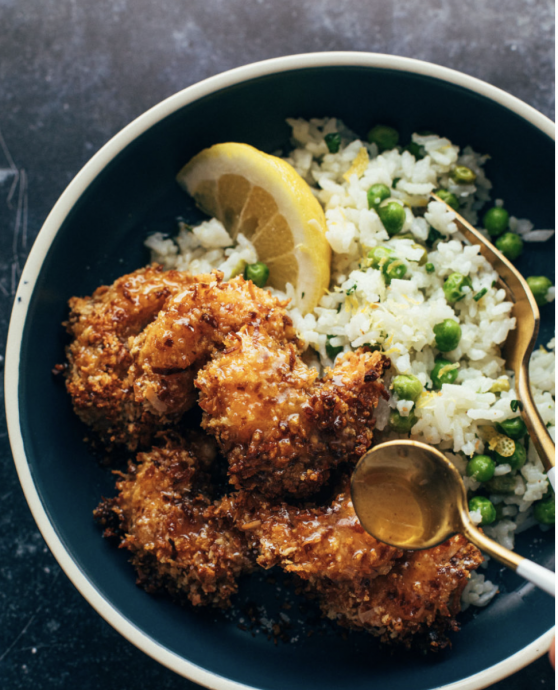 Perfectly springy baked coconut shrimp piled high on a mountain of steamy pea-speckled and lemony rice and drizzles upon drizzles of a beautiful honey butter sauce. This is exactly the spring vacay you need!
This beautiful and perfectly springy shrimp and rice combo has us feeling that sunshine on our faces. The slightly sweet crunch of the coconut shrimp (with a nice & simple bake method, so a lot of the crisp with none of the fry-smells), the bright, sweet, green peas popping up here there and everywhere in the light, lemony, herby rice. And then there's the honey butter sauce for sweet dips and drizzles that taste like vacation. Plus everything you'll need for this spring crush is from ALDI, so you know you're getting quality, affordable ingredients. BIG thumbs up from us!
Ingredients:
Coconut Shrimp
3/4 cup Chef's Cupboard Panko Breadcrumbs
3/4 cup Baker's Corner Coconut Flakes (sweetened or unsweetened, but I prefer sweetened)
2 eggs, beaten
1/2 cup flour
1/2 teaspoon paprika
1/2 teaspoon salt
1 pound Fremont Fish Market Jumbo EZ Peel Raw Shrimp, thawed, tails removed (see notes)
Springy Rice
1 cup Specially Selected Jasmine Rice, uncooked
10-ounce bag of Simply Nature Sweet Peas
lemon juice and zest
herbs or greens
1 clove grated garlic
2 tablespoons butter
Honey Butter Sauce
4 tablespoons melted butter
2–3 tablespoons honey
1–2 teaspoons Dijon mustard