End-of-Summer Gazpacho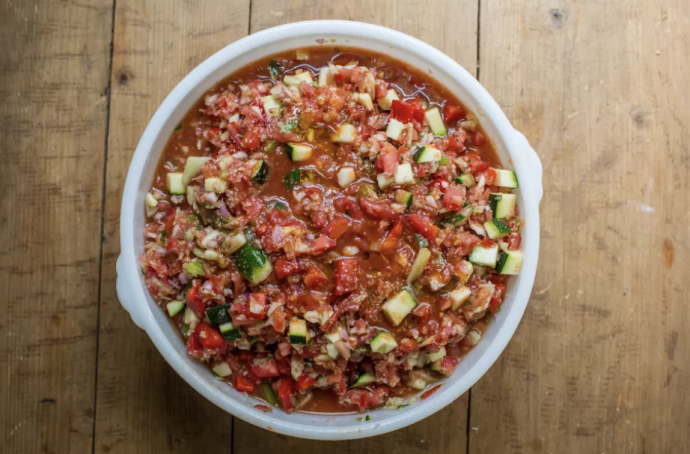 Gazpacho is a cold vegetable soup which truly makes the most of all of the produce that's available at the end of summer, tomatoes in particular (they are the star of the show). The order in which the ingredients are pulsed does not matter; just make sure you pulse the minced jalapeno and garlic with at least one of the cubed vegetables so it all incorporates nicely. You can pulse the vegetables coarsely, or until they are pretty finely ground, and you can add more or less tomato juice as you please–gazpacho is a very personal balance between flavor and texture.
You can also add more bell peppers, and it's nice to include a mix of colors (let the kids pick them out at the market!). If you don't have jalapeno, you can use a shot or two of hot sauce. Put out hot sauce on the table either way and let people spice up their bowls as they wish.
Kids love pulsing the food processor, with proper supervision of course! They can also help chop vegetables with an age appropriate knife–but leave the jalapeno for more careful hands and wash your hands thoroughly with warm soapy water after you mince it.
Ingredients
1 1/2 teaspoons minced garlic
1 medium red onion, diced
1 large seedless cucumber, diced
2 stalks celery, cut into 1-inch pieces
2 small zucchini, diced
1 medium bulb fennel, trimmed, cored and cut into 1-inch pieces, optional
1 pepper red bell pepper, diced
8 large plum tomatoes, cored, seeded, and cut into 1-inch pieces
1 teaspoon minced jalapeno, or to taste
4 cups tomato juice
3 tablespoons extra-virgin olive oil
2 tablespoons white wine vinegar
Salt, to taste
Freshly ground black pepper, to taste
Lime wedges, for serving, optional