Spring Salmon with Creamed Leeks, Potatoes, and Asparagus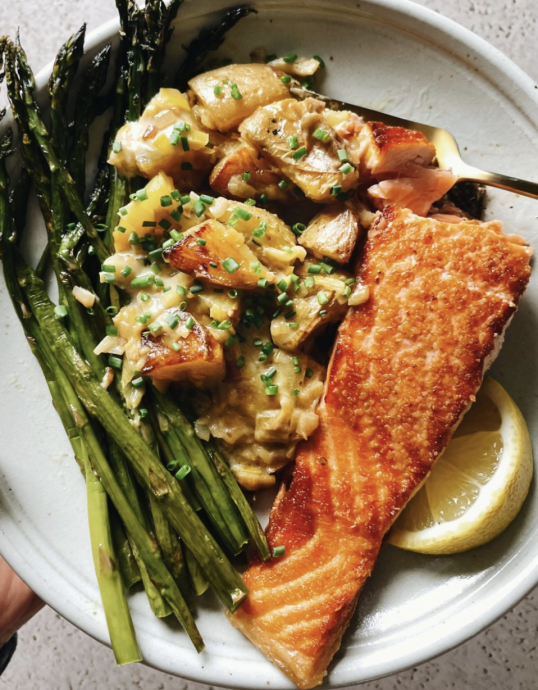 We're bringing you a plate of sunshine for dinner! Perfectly golden-crisp salmon partnered next to oven-roasted asparagus and a buttery, rich, creamy leek sauce piled on crispy potatoes.
This dish is for everybody, but especially those of us who have been living in the hideous splotchy grey of winter's end because it's like, "Oh heeeeey! Remember color?! Look how beautiful and bright and warm! I am a gorgeous food painting for your eyes!"
The bright inexplicable pink of the tender flaky salmon, with golden olive oil-crisped edges. The deep green of the roasted asparagus calling us towards springtime. The pale yellow of the creamy leek drenched potatoes, speckled with bright pops of chives, an almost neon slice of lemon.
It's like technicolor. It's delicious. It's bold and light and it's serving up sunshine for dinner.
Ingredients:
Creamed Leeks:
3 leeks, white and light green parts sliced
2 tablespoons butter
1 clove garlic, thinly sliced
a few sprigs of fresh thyme, leaves removed
1/2 cup heavy cream
3/4 – 1 cup chicken or vegetable broth
a couple pinches of lemon zest
salt and pepper to taste
Other Stuff:
1 pound potatoes, rinsed and halved
1 pound asparagus, tough bottom stems trimmed
1 pound salmon (1 small filet per serving)
olive oil, salt, and lemon juice