Chunky Strawberry Salad with Poppyseed Dressing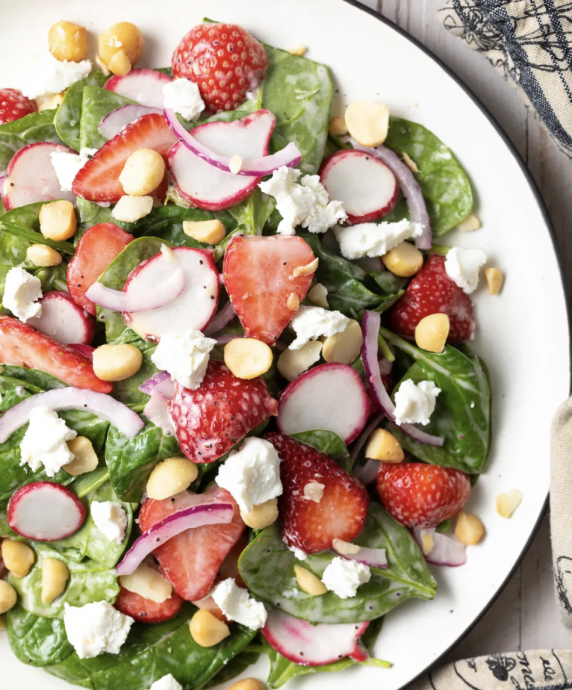 Chunky Strawberry Salad with Poppyseed Dressing – Strawberries are the star of this healthy spinach salad recipe that's loaded with fresh ingredients, crunchy macadamia nuts, and creamy goat cheese. Top with poppyseed dressing for a bright and satisfying summer salad!
Summertime and salads go hand-in-hand.
With temps on the rise we typically don't feel like "cooking" heavy, hot meals during the summer. I mean, what's the point of getting the whole house roasting for a dinner that's just going to make you feel more uncomfortable anyways?
Instead, my summer meal plans tend to involve as many raw, no-cook recipes as possible. This means we enjoy a lot of varieties of delicious, satisfying salads for lunches and dinners. My family eats well and I don't develop a nasty mop sweat over the stove every evening. Win-win!
Ingredients:
2 cups fresh strawberries hulled and sliced
6 ounces fresh baby spinach
1 cup sliced radishes
¾ cup chopped roasted macadamia nuts
1/3 cup crumbled chevre goat cheese
¼ sliced red onion
¼ cup store-bought poppyseed dressing (or homemade)